Magu Explains CCB Snub, Says Documents With Salami Panel, DSS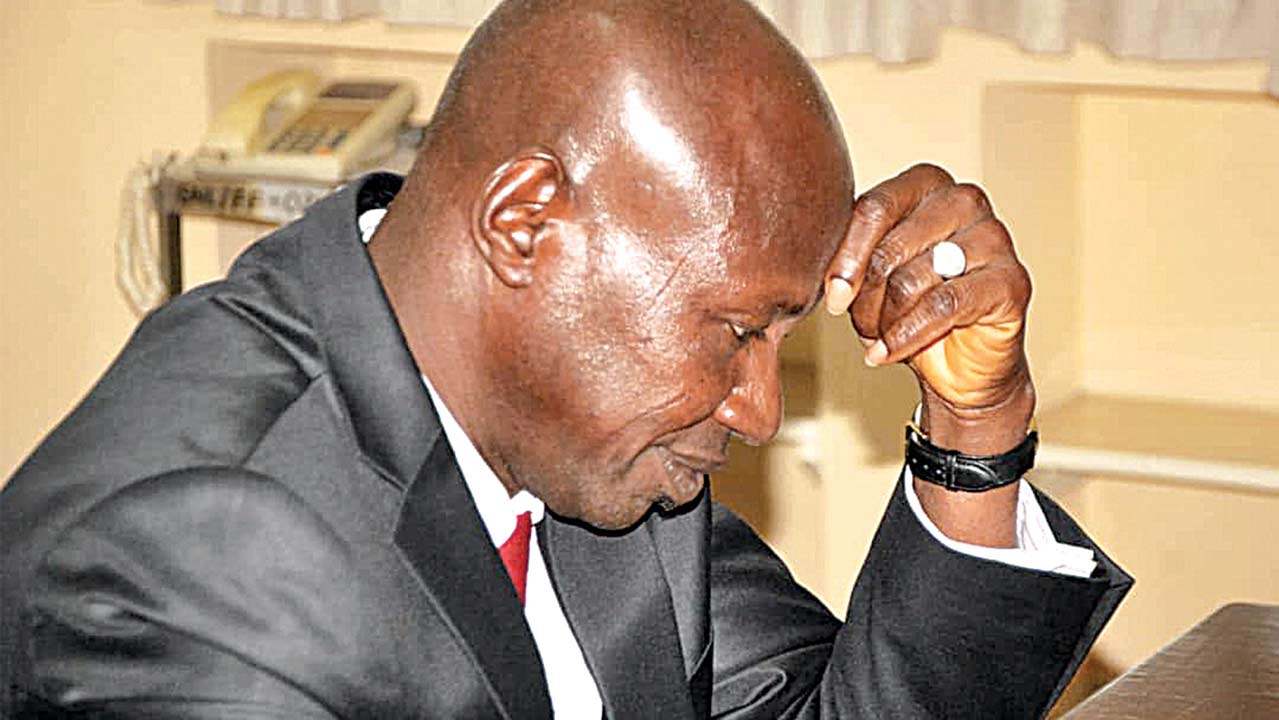 Ibrahim Magu, the suspended acting Chairman of the Economic and Financial Crimes Commission (EFCC), has explained why he failed to honour the invitation of the Code of Conduct Bureau (CCB).
Naija News reports that the CCB had invited the embattled Ibrahim Magu for questioning for failing to properly declare his assets.
The invitation handed to Magu by the CCB was contained in a letter dated November 2, 2020, with reference number CCB/HQ/II&M/007/2093.
Magu was expected to appear before the anti-corruption agency on November 17, 2020.
The document said the suspended EFCC Chairman was asked to come along with acknowledgement copies of all asset declaration forms since joining the public service as well as his payslips and land documents.
In the letter, the embattled Magu was addressed as 'former chairman' of the EFCC even though he had not yet been officially sacked.
But Magu refused to appear before the CCB, explaining to the bureau that he is unable to access his office for the requested documents.
He also wrote a letter to the Chairman of the defunct Presidential panel, Justice Ayo Salami, who investigated him, and informed him of his CCB probe and his inability to access the documents.
Quoting portions of Magu's letter in a statement on Sunday titled, 'CCB invitation: Magu lacks access to relevant documents – Lawyer' the embattled former EFCC boss lawyer Wahab Shittu said some of the documents requested by the CBB have been seized by the DSS and the retired Justice Ayo Salami-led panel.
He stated that Magu told the CCB that DSS removed the documents from his office while he was in detention following his suspension from office to pave the way for his probe by the panel.
Mr. Wahab Shittu also asked the CCB to reschedule the invitation till when Magu would have access to his office and the relevant documents.
He said, "We wish to state that our client did not shun the CCB invitation as the media reportage did not reflect the true position of the narrative.
"We wish to state with high sense of responsibility that we have written two letters to the Chairman of the CBB, intimating him about the inability of our client to have access to the relevant documents as required by the CCB."
The letters read in part, "We request that the invitation to our client be extended pending the conclusion of the exercise of the mandate of the presidential Judicial Commission of Inquiry set up against our client and the Economic and Financial Crimes Commission.
"This request has become necessary since most of the documents requested by your bureau were removed from our client's offices by the Department of State Services and the request of the Judicial Commission of Inquiry in the absence of our client while our client was in detention."