Nnamdi Kanu Reveals What Wike Has 'Instructed' Army To Do To Arrested IPOB Members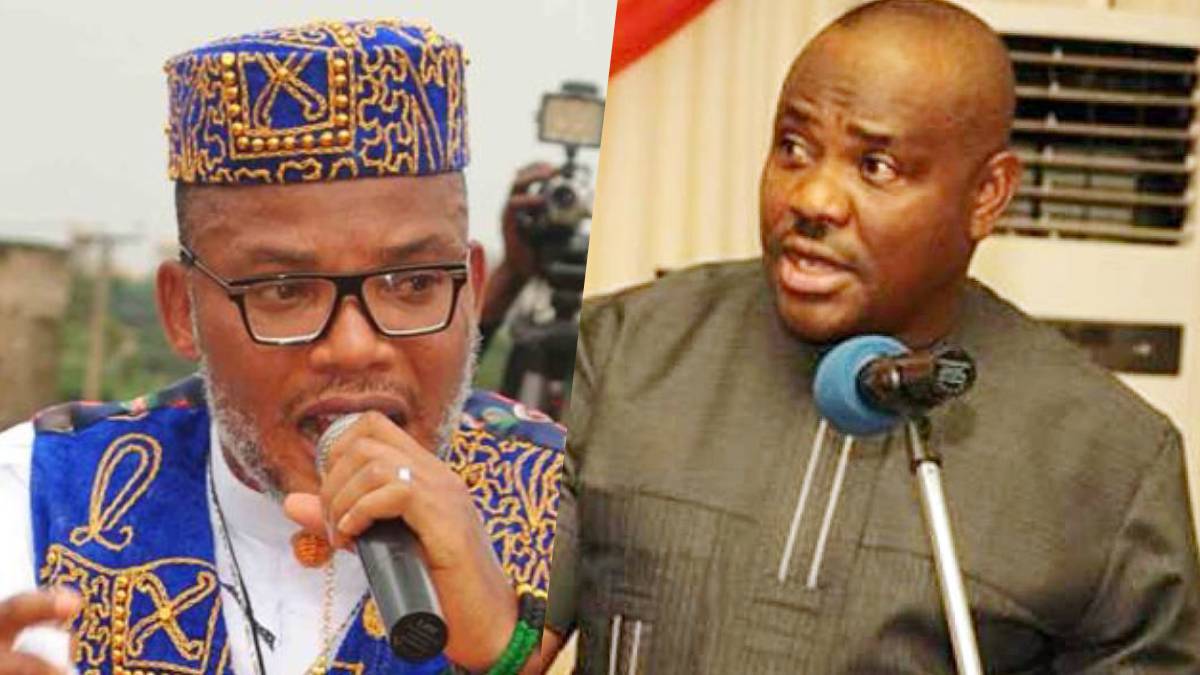 The leader of the Indigenous Peoples of Biafra (IPOB), Nnamdi Kanu, has accused Governor Nyesom Wike, of plotting to kill arrested IPOB members in Rivers, south-south Nigeria through the help of the Nigerian Army.
Naija News had reported earlier that Governor Wike signed an executive order to reinforce the ban on Indigenous Peoples of Biafra (IPOB) and its activities in the State during a state broadcast on Wednesday night, a day IPOB worldwide leader, Nnamdi Kanu, referred to him as a "little Hitler".
Governor Wike stressed during the broadcast that while Rivers remains the home to all tribes and ethnic nationalities, the state government is opposed to the presence and activities of the legally proscribed and anarchic IPOB and whatever it stands for in the south-south state.
The Rivers State governor had said while his administration acknowledges and appreciate the enormous contributions from non-indigenes to the political, social, and economic development of the State, it will neither accept nor allow any individual or group from within and outside to violate the peace, endanger lives and property under any guise in the State.
His words: "And so, let it be understood that we have nothing against all or any specific tribe and will continue to live in peace with people of all other tribal extractions residing or doing business in Rivers State.
"But we have everything against the presence and activities of the legally proscribed and anarchic Indigenous People of Biafra (IPOB) and whatever that group stands for in Rivers State.
"This is clearly a terrorist group whose existence, creed, mission, and activities are strongly denounced even by the Government and peoples of South-Eastern States of the country. I have therefore signed the executive order to reinforce the total ban on IPOB and its activities in Rivers State or any part thereof and nothing will stop us from enforcing this ban in its entirety," he said.
Apart from proscribing IPOB, the Rivers State governor also directed security agencies and the Chairmen of Local Government Areas to fish out and resolutely deal with any member of IPOB found in any community in terms of the executive order and other legal instruments.
Reacting to the Governor's order in a tweet on the micro-blogging site, Twitter on Thursday, Kanu said had said: "it's highly irresponsible & dangerous for Governor Wike to conclude without any investigations" that it was IPOB members that killed 'security personnel' at Oyigbo.
In another tweet On Friday, Kanu alleged that the Rivers state governor has instructed soldiers of the  Nigerian Army to execute IPOB members arrested in Rivers State.
"Nyesom Wike, the little Hitler of Rivers State had a closed-door meeting with lawyers where he instructed them that any arrested IPOB member should not be brought to court but rather should be executed by the army & police. That Wike may know that we know. Vengeance is the Lord's," Kanu tweeted.
Nyesom Wike, the little Hitler of Rivers State had a closed door meeting with lawyers where he instructed them that any arrested IPOB member should not be brought to court but rather should be executed by the army & police. That Wike may know that we know. Vengeance is the Lord's

— Mazi Nnamdi Kanu (@MaziNnamdiKanu) October 30, 2020