You're A 'Little Hitler', Nnamdi Kanu Bombs Wike, Tells Rivers LG Chairmen What To Do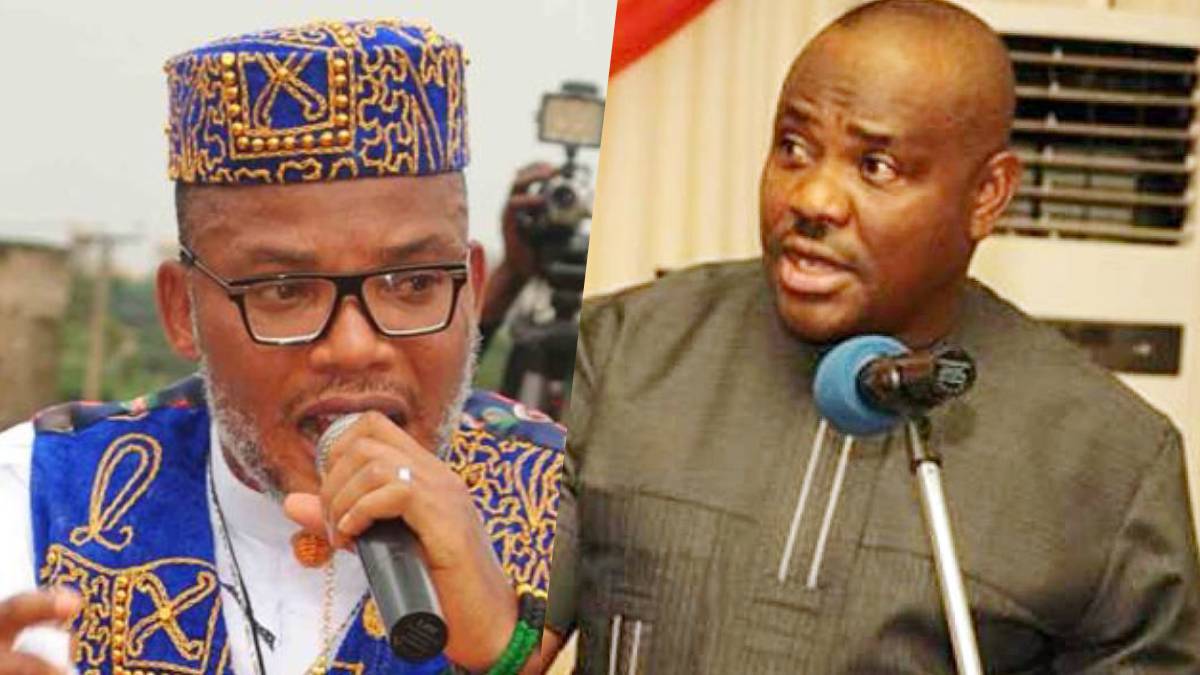 The leader of the proscribed Indigenous Peoples of Biafra (IPOB), Nnamdi Kanu, has described Governor Nyesom Wike of Rivers State, has a "little Hitler".
Naija News reports that the IPOB leader described Wike as a "little Hitler" in reaction to a threat by the governor that he would sack all Local Government chairmen in Rivers over the activities of the IPOB.
This online news platform had reported earlier that Governor Wike had charged the 23 LG chairmen, and youths in the state to fish members of the proscribed Indigenous Peoples of Biafra (IPOB) in the south-south state.
Governor Wike made this statement during a meeting with all the 23 Local Government chairmen, Community Development Committees, and youths leaders at the Government House, in Port Harcourt on Monday, October 26.
The Rivers State Governor warned that any council chairman that allows IPOB to hold processions and hoist its flag within their jurisdiction in Rivers State, risk sack.
Speaking further, Governor Wike described Rivers state as the most accommodating state for all Nigerians. To buttress this, he stated that there has never been any historical incident of different ethnic groups clashing in the State as has been witnessed in other parts of the country.
"There is one terrorist group they call IPOB. I did not declare them terrorist group, the court declared them terrorist group. Not me. The federal government declared them a terrorist group. IPOB cannot use Rivers state to be place where they will be launching attack. If you allow that, your future, your children's future is gone" the governor had said.
Reacting to Governor Wike's directive to the LG Chairmen, Kanu in a tweet on the micro-blogging site, Twitter, on Wednesday afternoon,  told the charimen of all LGA's in Rivers that Wike's " 'order' to you to 'fish out' IPOB members in your LGAs is demeaning, unlawful and anti-people. "
The IPOB leader told the LG Chairmen that it is in the best interrest of their people and their conscience to ignore Wike and stand with their "people, always."
"Dear Chairmen of LGAs in Rivers: @GovWike's 'order' to you to 'fish out' IPOB members in your LGAs is demeaning, unlawful & anti-people. It's in the best INTEREST of your people & your conscience to ignore the #LittleHitler. Stand with your people, always. Thank you!"
Dear Chairmen of LGAs in Rivers:@GovWike's 'order' to you to 'fish out' IPOB members in your LGAs is demeaning, unlawful & anti-people. It's in the best INTEREST of your people & your conscience to ignore the #LittleHitler. Stand with your people, always. Thank you!

— Mazi Nnamdi Kanu (@MaziNnamdiKanu) October 28, 2020