Minister Gives Update, Reveals When Npower Batch A And B Will Get Outstanding Stipends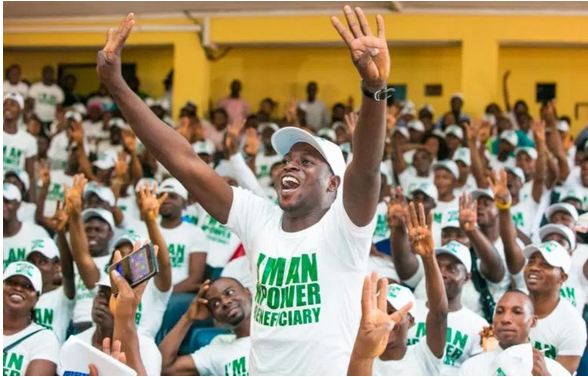 Hajiya Sadiya Umar Farouq, the Minister of Humanitarian Affairs, Disaster Management, and Social Development has given an important update on the payment of outstanding stipends for exited Batch A and B beneficiaries of the Npower scheme.
The Minister in a series of tweets via her Twitter account on Tuesday, 27th October explained that those with outstanding payments were affected by the platform migration from NIBSS to GIFMIS by the Office of Accountant General of the Federation in March 2020.
Farouq explained that 14,200 Npower Batch A and B beneficiaries are affected and gave the assurance that they will be paid before the year 2020 ends.
She added that some of those flagged were receiving payment from other government agencies, while it was further discovered that some of them used their NYSC accounts to register for Npower, making the platform to wrongly flag their accounts for double payment.
She however assured that all those that are successful in the final verification done at state levels and have been found to have been wrongly flagged will get their 5-months outstanding payment before the year ends.
She wrote: "From the consolidated list of beneficiaries we received from the OAGF in September, the 14,200 beneficiaries with arrears of stipend were flagged for receiving monthly payment from other MDAs, particularly from the NYSC."
"The delay in the payment of the arrears arose due to platform migration from NIBSS to GIFMIS by the Office of Accountant General of the Federation in March 2020."
"I consider it necessary to give status update regarding the outstanding arrears of stipend to the 14,200 N-power cohorts from Batch A and B."
"It is possible that the 14,200 beneficiaries used their NYSC allowance bank accounts for N-Power and GIFMIS payment platform picked them for double payment."
"We have initiated State verification process with State N-Power Focal Officers. The 14,200 affected beneficiaries will present their NYSC certificates for final verification after which we will present an updated list to OAGF to pay off their 5 months arrears."
"All legitimate claims and those on verified list will be paid before the end of the year."