'If You're Jagaban, Walk On The Streets Without Security' – Nigerians Dare Tinubu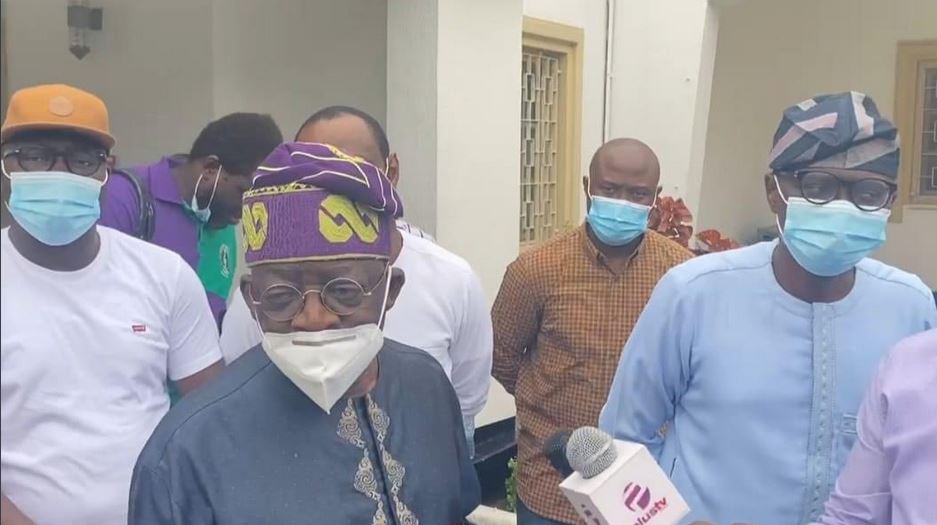 Nigerians have challenged Bola Tinubu, the National Leader of the All Progressives Congress (APC) to walk on the streets of Lagos with his security details if truly he is the "Jagaban" as claimed by him on Saturday.
Naija News had reported earlier that the APC National Leader reiterated that he is "still the Jagaban" when he paid a visit to Lagos State Governor, Babajide Sanwo-Olu, at the State House in Marina on Saturday, October 24.
While addressing journalists after the meeting with the governor, Tinubu, a former governor of Lagos state denied traveling out of Nigeria after the Lekki massacre as reported by some sections of the Nigerian media.
Naija News had reported earlier that men suspected to soldiers of the Nigerian Army invaded a peaceful protest at Lekki toll gate on Tuesday evening, October 20, killing #EndSARS protesters in the process.
However, some Nigerians, suspected to be thugs, who were apparently displeased with the killing of the peaceful protesters, stormed the streets in retaliation, vandalizing several monuments in the process. Television Conentinetal and The Nation newspaper as well as Oriental Hotels, linked to Tinubu were destroyed.
Asked about his whereabouts in the past few days, the APC National Leader said, "I didn't go nowhere; I'm a Lagosian and I still hold the title of Asiwaju of Lagos and I am still a Jagaban.
"Fake news is all over the place. They say Seyi my son was kidnapped and was chased but look at him. I didn't pay a penny to bring him here," Tinubu added.
Displeased with Tinubu's statement, Nigerians took to the micro-blogging site, Twitter to challenge Tinubu to walk on the streets of Lagos without his security details to prove that he is the "JAGABAN" as he claims.
Naija News capture some of the reactions of Nigerians below…
Dear Tinubu,

If truly you are Jagaban as you claim, Please walk on the streets of lagos without security.

— Adenekan Mayowa (@Mayorspeaks) October 24, 2020
"I am still the Jagaban of lagos"
Abacha sef no do pass like this and all of us know the story.

— zeelux #EndSarsNow (@CallMe_Zeelux) October 24, 2020
Even the reporter was shocked and said "Ohh my God" when he heard "I'm still the Jagaban of Lagos".

— Wale Adetona (@iSlimfit) October 24, 2020
Apparently, Tinubu can't make a statement without massaging his own ego. It is either he introduced himself as father of all democrats, Asiwaju of Lagos or Jagaban.
The delusion is amusing to see.

— Premier (@SodiqTade) October 24, 2020
Tinubu the Jagaban of Lagos that was no where to be found when protesters paid him a little visit days back is now telling us he didn't go anywhere, can someone help me ask him why he didn't attend to the protesters if truly he was home? Abi wetin he take us for?

— Imported Alhaji ? (@ImportedAlhaji) October 24, 2020
So in a nutshell, Your Jagaban said "I know say dem kill una but wetin una Dey find for my toll gate?" ? I already talk am say this man no get heart at all.

— Duke of Ibadan ?️ (@AsiwajuLerry) October 24, 2020
Tinubu If you truly Jagaban I dare you to walk without convoys the way seyi makinde did at Ibadan , if the Nigerian youths won't turn you to kilishi #SaturdayThoughts #2023ElectionforYouth Calabar pic.twitter.com/81pj10KV2v

— Aku N'Esi Obi Ike #ENDSARS (@Uzomaka_Kelechi) October 24, 2020
Leading From The Rear.

"I didn't go nowhere. I still hold the title of Asiwaju. I am still Jagaban…!"

My friend get the fcuk out of your house and walk the damn street!

Asiwaju abẹ́ ilé. Jagaban inú ìyẹ̀wù! #jagaban " pic.twitter.com/hOtlI2AfCh

— Rajee Ola (@Olarajee) October 24, 2020
@AsiwajuTinubu If you are indeed the "Jagaban" of Lagos, walk into the streets of Mushin or Ajegunle without security.

Then, we will all agree.

— Darls Delicious (@DarlsDelicious) October 24, 2020
If truly Tinubu is the asiwaju of Lagos state and jagaban as he claim, let him walk alone in Lagos street physically and spiritually without any form of security….. I want to confirm how strong he is…… Hope all lagosians are ready?? #SaturdayThought money frame 2 Daniel pic.twitter.com/amAbCTiIMR

— Wale Grace (@Walegrace1) October 25, 2020
Jagaban of lagos! But you can't walk freely without security! Ókpé Maximum!

— #SARSMUSTEND тega мena orιe #MéLóvia ♤ (@iamTAYGAH) October 24, 2020