'No Wonder He Was Killed', Nigerians Accuse Security Operatives Of Killing Gana To Cover-Up Secrets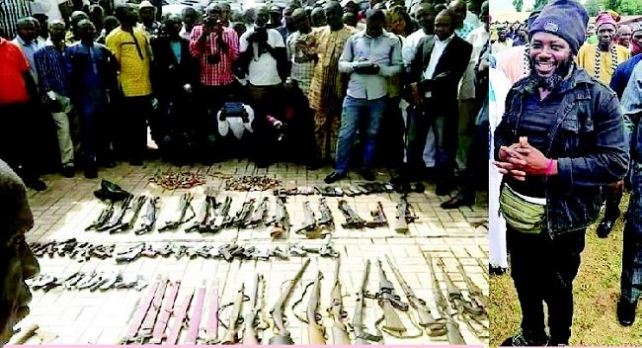 The most wanted suspect in Benue State, Terwase Akwaza, popularly known as Gana before he was killed by the military had revealed some security details about the plan of herdsmen to take over four States in Nigeria.
He was, however, killed by operation AYEM APKATUMA III of the Nigerian military.
Gana was killed after he surrendered for the amnesty programme in Katsina-Ala township stadium in Katsina-Ala local government area of Benue North senatorial zone on Tuesday, September 8.
The death of the Militant has been condemned by many politicians with the Benue State Governor, Samuel Ortom, calling for investigation into the action of the military.
Other Nigerians have also taken to social media platforms to react to the development.
Here are some reactions gathered by NaijaNews on Micro-blogging platform, Twitter:
This explains it all.. So he was going to spill secrets.. Imagine he was talking of arranging wit security.. So indeed military r culpable in this attacks lik ppl suspected. No wonda he was killed. 1b to kill n coz mayhem 2 capture a state 4 herdsmen!!!!.. OMG!

— archibong victor B (@kkkuyz) September 10, 2020
Sums it all! This and many more reasons are why they killed him! Dude knows too much! During the last amnesty he exposed the Gov's special adviser on security and other appointees

— Lord of The North (@mcattah) September 10, 2020
Very capable because the top guns in the green uniform won't see Ghana Must Go to share if there is no insecurity!!! They won't need to buy weapons

— Damilola ToblanSpice (@ToblanSpice) September 10, 2020
He should have been wise enough to know he will be killed eventually and expose every person involved with receipt. I hope the next person to tell us this kinda story gives us accurate info, and if he was killed, posterity will judge his killers and our nation will be grateful.

— TeniWealth. (@cute_yossy) September 10, 2020
This guy would have mentioned names and reveal a lot, but our gallant soldiers brought him down.

— ♔His Royal Saintness (@St_david1) September 9, 2020
It's pretty obvious that the army were desperate to stifle whatever information this guy had, hence they seized and executed him immediately before he could reveal that info.

Hmm…

— Kosisochukwu (@KosiRinjis) September 10, 2020
Source: Naija News