Nigerians Dig Up Ganduje Bribery Case After Governor Declared Readiness To Sign Singer's Death Warrant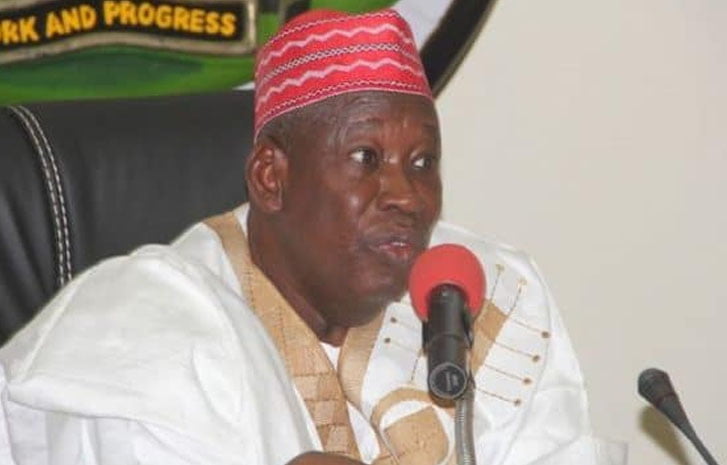 A storm of reactions has greeted the declaration by Kano State governor, Abdullahi Ganduje who said he is ready to sign the death warrant against the singer accused of blasphemy.
The Governor noted that if the accused singer does not take up the option of appealing the sentence against him, he won't hesitate to sign his death warrant.
It will be recalled a Kano-based singer, Sharif Yahya Aminu, was sentenced to death by a Kano Shariah Court for blasphemy against Prophet Muhammad.
On Thursday, Ganduje noted that he will sign the death warrant passed on the singer without hesitation once all avenues of appeal are exhausted but noted that the accused has the right to appeal the judgment up to the Supreme Court.
" I assure you that immediately the Supreme Court affirms the judgment, I will sign it without any hesitation," Ganduje, who was speaking at a stakeholders' meeting of Ullamas, lawyers, university dons and other persons at Government House, Kano, Thursday, said.
Ganduje's position on the matter has however drawn mixed reactions from Nigerians who are of the opinion that the Governor himself has some cases of corruption hanging on his neck and should also be subjected to the same Shariah law ruling.
Ganduje was in 2018 caught on camera allegedly receiving bribes in US dollars from some contractors.
Some even believe the Governor's statement on the death sentence for the accused blasphemer has some political undertone.
See some of the reactions.
Ganduje was caught on camera allegedly collecting bribe. In sharia law any gift to public servant belongs to the State talkless of one caught collecting bribe.
There is no immunity in sharia law.
Ganduje should be the one sentenced to death not signing death warrant

— Aisha Yesufu (@AishaYesufu) August 28, 2020
Gov. Ganduje is pandering to the general consensus of his people by saying he won't waste time signing d death warrant

But what is d general consensus as to someone who was caught stealing monies meant for their development?

Seems blasphemy is bigger crime compared to looting?

— DEMAGOGUE PhD.?senior advocat? (@von_Bismack) August 28, 2020
Ganduje says he will sign the death warrant of Aminu Sharif and people are cheering him on. How can people be cheering their own systemic oppression on?

— Kayode (@K_Basharr) August 27,

Ganduje will sign the death warrant of that man and nothing will happen. Few years from now your slave masters will rebrand him for the south (he will be popular in the North) and he will be rewarded with the presidency. That's the reality of your Nigeria, don't deceive yourself.

— Tenacity (@NewDawn9Ja) August 28, 2020

2020
Umar Abdullah Ganduje, the founder of mobile banking inside fabrics, his renowned bank, BABARINGA BANK, was commissioned in 2018 and till this day we've not been made to understand the TECHNOLOGY behind this first tuned invention from KANO pic.twitter.com/6TrO2Idm3F

— GODZILLA (THE PEN) ?️? (@Samcleave_Ng) August 25, 2020
When thief is about to sign death warrant what will happened to thief after doing so it will not be surprised to anyone…..Ganduje thief thief….Ganduje rubber rubber. pic.twitter.com/qtf4tX13rk

— Sunpet (@Sunpet4real) August 27, 2020
All this MADNESS is because there is FREE oil money coming from the South to fund stupidity in the north. If Ganduje is saddled with the responsibility of generating revenue to cater & sustain Kanu State monthly bill, he'd have too many things on his head to worry about..

— MaxwellPaul (@Ntob) August 28, 2020
1. Just like Jews chose Barabbas (the bandit) over Christ, Nigerian Muslim Ummah, has chosen Ganduje over the singer Yusuf, accused of blasphemy

They have forgiven Ganduje for stuffing dollars in his Babariga & stealing away their brains, bundled with the little futures they had

— NEFERTITI (@firstladyship) August 28, 2020
All dis ppl be making noise upandan!
You aren't muslim, den stay away from matter wey no concern you. Nobody seek ur opinion on hw Sharia law should be nd dis bluffing will nt change it.

Ganduje won't give damn thing about yhu, if e pain yhu! Jst organize protest at Kano.

— Coca~Cola (@Naseer_oumar) August 28, 2020
Ganduje is not a Fool, to him signing the death sentence of Yahaya Shariff Aminu is a strategic political move. It's the rest of you that are grovelling in your buffoonery.

— Fakhrriyyah (@FakhuusHashim) August 27, 2020
And there are others who are absolutely in support of the Governor's declaration on the matter.
All dis ppl be making noise upandan!
You aren't muslim, den stay away from matter wey no concern you. Nobody seek ur opinion on hw Sharia law should be nd dis bluffing will nt change it.

Ganduje won't give damn thing about yhu, if e pain yhu! Jst organize protest at Kano.

— Coca~Cola (@Naseer_oumar) August 28, 2020
Honestly, the step Gov Ganduje took towards that senseless blasphemer vindicate that he's one of the best things that ever happened to Kano and northern Nigeria as whole and I am sure the gesture will barricade the occurrence of such things in the future.

— Z A N N A H✨ (@__usyy) August 27, 2020
Kudos to Khadimul Islam (gov. Ganduje). You have done what is expected of you as a leader. This should serve as a lesson to others with similar intentions, death warrant for the guy who blasphemed against Prophet Muhammad (S.A.W) pic.twitter.com/eNa1gPB6jF

— QUEEN IN THE NORTH? (@mareeyerhh) August 28, 2020
Kano State Governor, Dr Abdullahi Ganduje said he's ready to sign the death warrant issued against a Kano-based singer, over blasphemous song against Prophet Muhammad S.A.W.

Allah ya taimake Ganduje ?

— Mr. JABIR (@jishaq1) August 27, 2020