VIDEO: TB Joshua 'Storms' Isolation Centres, 'Heals' COVID-19 Patients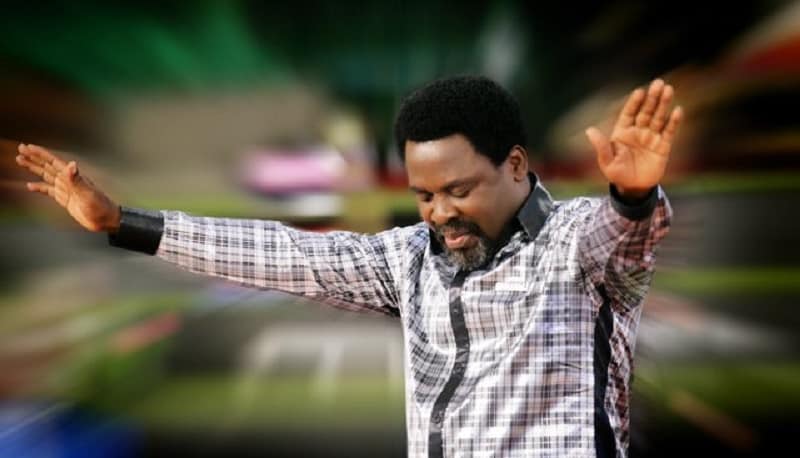 Prophet TB Joshua, the founder of the Synagogue Church of All Nations (SCOAN), has begun 'virtual prayer' for healing for those afflicted with COVID-19 in an Isolation Centre in Honduras, Central America.
In a video posted on Emmanuel TV's YouTube Channel, TB Joshua was seen praying for bedridden patients hooked up to oxygen tanks and surrounded by hospital staff.
"Where can we go from God's presence? Distance is not a barrier because He is Spirit," Joshua said.
"By the power of the Holy Spirit – that affliction, that COVID-19 – be flushed out," he prayed stretching forth his hands..
"Jesus that has freed you will help you to maintain your miracle. Make the Word of God the standard for your life," Joshua counseled after declaring dozens of COVID-19 patients "free".
Reacting after the prayers by TB Joshua, Aracely, one of the Honduran patients, said: "I sensed the healing and delivering power of God," she added, "I felt my lungs fill up with air… I'm no longer using the oxygen mask."
"I couldn't go to the toilet before but immediately after the prayer, I felt like rushing to the toilet," another patient immediately acknowledged. "I passed out a lot of foul substance – that was the power of the prayer."
"I saw a white light that illuminated me and asked me to remove my oxygen mask," another lady stated. "I'm not choking any longer," she excitedly stated, with others testifying their sense of smell and taste was restored and their strength revitalized following the prayer.
Afterward, representatives of the medical staff at the hospital thanked Joshua for his prayers and support.
Concluding the video, TB Joshua stressed that the healing was not intended to "discourage anyone from seeking medical treatment" as "good Christians are good citizens".
"If you don't believe in God with medicine, you cannot believe in God without medicine," Joshua said.
Watch the video below:
https://www.youtube.com/watch?v=e0r1ftOrZ2U