BBNaija: Nigerians Roast Ozo For Begging Nnengi After Picking Dora As Deputy HOH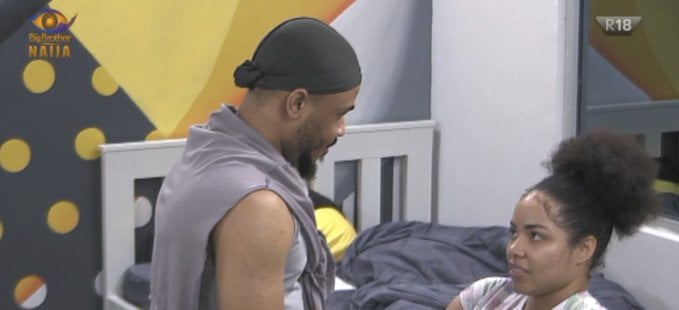 Nigerians have berated current Head of House, Ozo for begging Nengi after picking Dora as Deputy HOH over Nengi for week three of the ongoing BBNaija Lockdown edition.
Naija News had reported earlier that Ozo won Monday's night Head of House game, becoming the first male HOH of the BBNaija Lockdown edition.
Ozo became the HOH for the third week of the ongoing Big Brother season five after Nengi and Lucy emerge, winners of the previous Head of House games.
Ozo won the BBNaija HOH for the third week with no ties unlike the past two which saw Nengi and Lucy emerge winners respectively.
After winning the game, Ozo selected Dorathy as his Deputy HOH, a decision he believes didn't go well with another BBNaija Housemate, Nengi, who he (Ozo) had said he is attracted to her but sees Dora as a friend.
Moments after Ozo picked Dora over Nengi, he was seen apologizing to Nengi for picking Dora over her, an action which Nigerians didn't take likely as they took to the micro-blogging site, Twitter to give their opinions on the decision.
Naija News captured some of the reactions below…
Both girls will hate him eventually.
That's what ozo doesn't understand ?

If you don't owe Nengi anything,
Why are you explaining yourself to her?

Apologising makes you look weak.
You made a choice!! Be a MAN ffs!!?

— I am a virgin and i (@Anambravirgin) August 3, 2020
Ozo is the type of man that will marry Dora as a wife and keep nengi as a sidechick. Such an embarrassment!!! #BBNaijaLocdown pic.twitter.com/lApAPFr392

— QUEEN MOTHER ?✨ (@rutie_xx) August 3, 2020
So Nengi and Ozo have been showering together but Kayode will not show us. But once he's talking to her you show us making the guy look stupid. Kayode 600 years for you #BBNaija pic.twitter.com/cqUayHHLga

— OZO's ULTIMATE STAN (@ozone_captain) August 3, 2020
This ozo is the smartest guy in the house, he is there to win no cap, Keeping his emotions aside to go for something that will give him advantage, Nigga choose Dora and went back to Nengi. A king#BBNaijaLocdown pic.twitter.com/L31ON5LAR3

— Al'ameen✨ (@Al_ameen_Yabo) August 3, 2020
If Ozo had picked Nengi over Dora….he would have lost half his fan base!#BBNaijaLocdown

— IRUNNIA ™ (@Irunnia_) August 3, 2020
But why is Ozo now following Nengi around apologizing for his decision, isn't foolishness??

It's very clear that the best option for him is Dora, choosing any other person will be uncivilized. #BBNaijaLockdown

— ZATARRA? (@zataarra) August 3, 2020
Why's Ozo doing like this? ?.. Stand by your decision na? Which one is this apology and insha Allah? pic.twitter.com/DUFdpq94Lc

— Mr. Wycard (@Vader_Wildcard) August 3, 2020