Bobrisky Announces He Is Pregnant, Flaunts 'Baby Bump' In Video, Nigerians React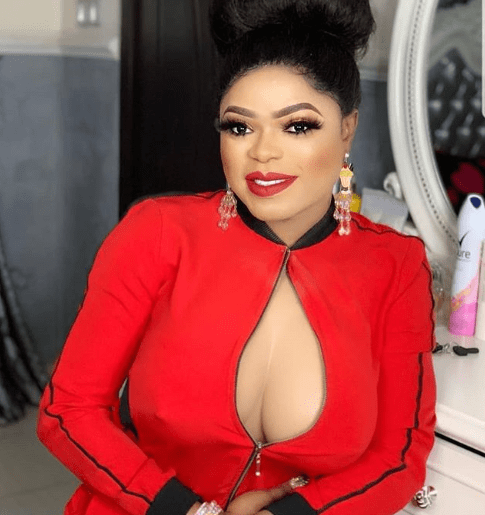 Nigerian male barbie, Bobrisky has announced that he is pregnant and can't wait to welcome the child, adding happily that he is the first transgender to take in.
The development was announced on Monday by Bobrisky himself via his social media pages.
The crossdresser, while congratulating his 'bae' further disclosed he is already two weeks gone. He, however, didn't reveal the identity of the lover.
See the dancing video with which Bobrisky announced the news:
I'm acc screaming what is wrong with bob risky? pic.twitter.com/YTIywr9UdR

— olan bi won ninu ?????? (@Lilibetrufai) July 13, 2020
Naija News recalls his announcement is coming only a few weeks after he appeared as a man at his father's birthday party, and therefore prompts a begging on the credibility of the news.
His stomach as it appears in the video is also much bigger than that of a two-week pregnancy as well.
Meanwhile, a storm of reactions has greeted the announcement by Bobrisky, with some Nigerians even doubting the authenticity of the news.
Others have raised concerns about how the baby will be delivered if the hint is actually true.
See some reactions:
Bobrisky pregnant? This year is never ending

— jenn1fer (@jenn1ferrrrr) July 13, 2020
Bob Risky's pregnant? Is she sure it isn't cake?

— #Doll?? (@itsCeeLinaa) July 13, 2020
I thought 2020 was finally going back to normal then I heard that Bobrisky is two months pregnant.

— YT: Tiana Ladipz (@OloriOfOloris) July 13, 2020
Which of the Bobrisky is pregnant.
He or she? ?? pic.twitter.com/M4BL5YinHL

— My Deen My Swag ? (@AM_Saleeem) July 13, 2020
So bobrisky will become a daddymom ? Or momdaddy? Or child bearer? #bobrisky pic.twitter.com/BVX32y67ut

— Bad.desmondo (@dexmond_evb) July 13, 2020
Will bobrisky give birth from his anus or what?
And where the fuck did he get his womb from? #MANSOU #COVID19 pic.twitter.com/HoSxdOTCQR

— ??NFL Dropout ???? (@De_Caesar_) July 13, 2020
Bobrisky says he is pregnant.
Can someone please call Angel Micheal and tell him to blow the trumpet. pic.twitter.com/E4Sk6fzSOY

— TheTemidayo (@Te_mi_da_yo) July 13, 2020
Who izz the husband of Bobrisky?? Abi na artificial insemination?? Bob should address us ooo

— Bello Henry (@henrykabel01) July 13, 2020
The moment everyone stop giving Bobrisky the attention he wants i bet the dude is going to come out with his balls ????

— IBUKUNOLUWA (@lapearlofficia1) July 13, 2020
Dem talk sae Bobrisky don get belle , when is 2020 ending abeg?

— king of Naija ??? (@lineka2000) July 13, 2020
This one that Bobrisky is two weeks gone??. What else is 2020 hidding from us??

— Dr Adewoyin .O. A (@opeaa) July 13, 2020
Some others believe Bobrisky is only throwing some publicity stunts and should be denied attention.
Bob Risky gets too much attention, honestly, and I don't understand why. And this undeserved attention fuels their shenanigans. Ọdẹ boy, àbí na girl.

— Akinsiwaju Sanya (@AkinsiwajuSanya) July 13, 2020
The moment everyone stop giving Bobrisky the attention he wants i bet the dude is going to come out with his balls ????

— IBUKUNOLUWA (@lapearlofficia1) July 13, 2020
I think is high time Nigeria arrest Bobrisky for for public disgrace.

How can he say that she is pregnant and flaunting his pregnancy at the same time? pic.twitter.com/nxY1clcldF

— Voice of our ANCESTORS. (@Ancestors_Voice) July 13, 2020
Itz crazy how bobrisky will do anything for attention, more crazy how we give him..

— seyifunmi??‍⚕️? (@seyi_iris) July 13, 2020
Lol if you actually believe bobrisky pregnant it's you that needs help.

— Bena?? (@_benababyy) July 13, 2020