COVID-19:Trump Wears Face Mask For The First Time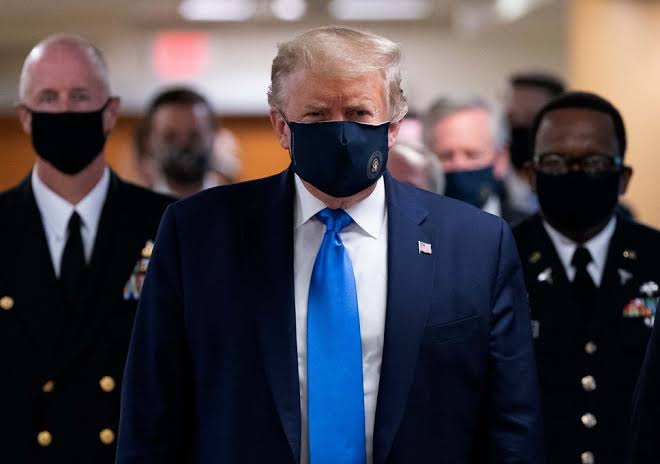 For the first time since the inception of COVID-19, US President, Donald Trump wore a mask in public.
Naija News reports that earlier he had vehemently refused to wear the face mask to public gatherings and especially press conferences.
However, while paying a visit to a military hospital in a short helicopter ride from the White House on Saturday evening, Trump could be seen in a dark coloured mask.
The president's decision to wear a mask came as cases of coronavirus surged to record levels in the US and after aides and experts urged Trump to follow his own government's guidelines on face coverings.
Trump flew to Walter Reed National Military Medical Center in suburban Washington DC to see wounded service members and health care providers caring for Covid-19 patients.
As he left the White House, Trump told reporters: "When you're in a hospital, especially … I think it's expected to wear a mask."
The only time Trump had worn the mask was during his tour of a Ford plant in may.
He argued that he refuses to wear a mask in public because he does not want to give the gathered press the pleasure.
He further noted that he feared a mask would make him look weak and was concerned that it shifted focus to the public health crisis rather than the economic recovery.
America is breaking records for new coronavirus cases almost every day, and hospitals in the new hotspots in southern and western states are under severe strain.