Biafra: Nnamdi Kanu Reacts To Magu's Arrest, Suspension As EFCC Chairman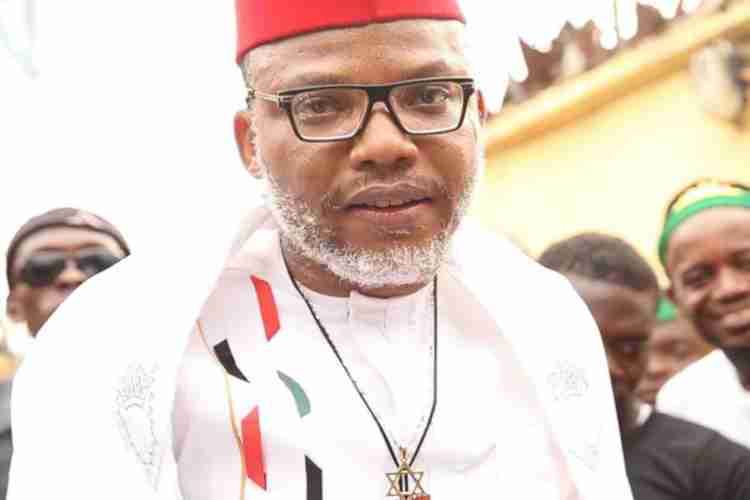 The leader of the outlawed Indigenous People of Biafra (IPOB), Nnamdi Kanu, has reacted to Ibrahim Magu's arrest and suspension as the acting Chairman of the Economic and Financial Crimes Commission (EFCC).
Naija News reports that Magu, who is under investigation by a presidential panel, has spent the fourth day at the Force Criminal Investigation Department (FCID) and on Thursday, requested bail from custody. Magu has been detained at the FCID since Monday when he first appeared before the panel.
The suspended EFCC Chairman is being investigated for various properties by the Justice Ayo Salami-led Presidential panel. According to reports, Magu is being quizzed over 380 houses and seven vessels loaded with crude oil.
It was learned that the Presidential panel requested that Magu accounts for the 380 houses and seven vessels loaded with crude oil, as well as the assets worth N37 billion. A source familiar with the development said the probe and interrogation were initiated for Magu to prove his innocence after the Attorney-General of the Federation and Minister of Justice, Abubakar Malami(SAN) levelled 20 allegations against him.
The accusation of the Minister of Justice led to Magu's arrest in Abuja on Monday. Part of the allegations included cash discrepancies after the EFCC realized N539 billion from the sale of seized assets, while the EFCC declared N504 billion, Vanguard reported.
On Friday, President Muhammadu Buhari approved the immediate suspension of Mr Magu and appointment of Mohammed Umar as the acting chairman of the EFCC in a statement on Friday by Umar Jibrilu Gwandu, media aide to Abubakar Malami, the attorney-general of the federation.
The statement reads in part: "President Muhammadu Buhari has approved the immediate suspension of Ibrahim Magu as Ag. Chairman EFCC in order to allow for unhindered inquiry by the Presidential Investigation Panel under the Tribunals of Inquiry Act and other relevant laws.
"President Muhammadu Buhari has also approved that the EFCC Director of Operations, Mohammed Umar, should take charge and oversee the activities of the Commission pending the conclusion of the ongoing investigation and further directives in that regards."
Reacting to Magu's travail in a tweet on the micro-blogging site, Kanu wrote:  "The man appointed to prosecute government looters in Nigeria is shamelessly looting all he could, ironic isn't? Are you beginning to understand why we call Nigeria a zoo? We Biafrans #RejectNigeria and demand  #BiafraExit #BiafraReferendum."
The man appointed to prosecute government looters in Nigeria is shamelessly looting all he could, ironic isn't?

Are you beginning to understand why we call Nigeria a zoo?

We Biafrans #RejectNigeria and demand #BiafraExit #BiafraReferendum

https://t.co/0ViscdVR8t pic.twitter.com/5u7QQankuU

— Mazi Nnamdi Kanu (@MaziNnamdiKanu) July 10, 2020