What IPOB Leader Nnamdi Kanu Demanded From Goodluck Jonathan's Govt (Video)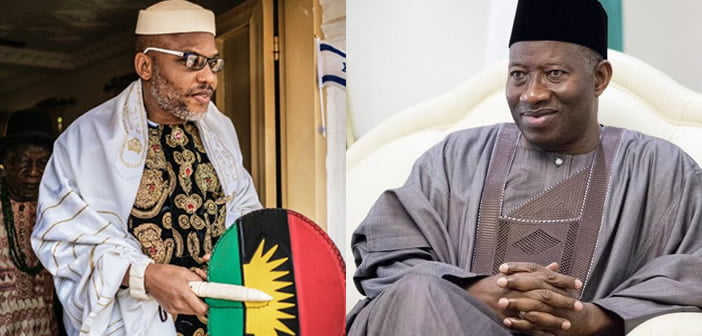 The leader of the Indigenous People of Biafra (IPOB), Nnamdi Kanu, campaigned for "one Nigeria" under former President  Goodluck Jonathan's government instead of the Republic of Biafra.
Naija News reports that ina video which has resurfaced online, the controversial activist could be seen protesting against attack by terrorists in Nigeria, maintaining that the terrorists are "determined to tear the country apart " which was not what he (Kanu) and his pro-Biafra activists wanted at the time.
Protesting the incessant killings by Boko Haram terrorists during the administration of former President Jonathan, the IPOB leader said: "We are protesting about the killing of families by people who are determined to tear the country apart and it is not something we support, it is not something we would like to see continue.
"If that continues, it will lead to a violent disintegration of the country, there will be no more Nigeria for anyone to go to. There will be no Nigeria for anyone to refer to. We cannot allow this nonsense to continue so something must be done.
"The only thing the terrorists can accomplish is the break up of Nigeria," Kanu could be said saying in the two minutes, twenty-seven seconds video sighted by this reporter.
Meanwhile, ever since then, Mr Kanu hs changed his tone as he is now known by the slogan "Biafra or death" in reaction to his agitation for the Republic of Biafra under the administration of President Muhammadu Buhari.
In a related development, Kanu has lamented that "everything those who fought for Biafra accomplished" has been destroyed by some selfish pro-Biafra activists.
In what appears to be a reaction to the ongoing rift between different Biafra groups, Kanu said on Radio Biafra: "We are destroying everything that those who fought for Biafra accomplished due to our selfishness.
"If I wanted to sell this struggle, I would've done it in Kuje Prison. They came to me and I turned them down," the IPOB leader said.