Biafra: We're Destroying What Ojukwu, Others Fought For – Nnamdi Kanu Weeps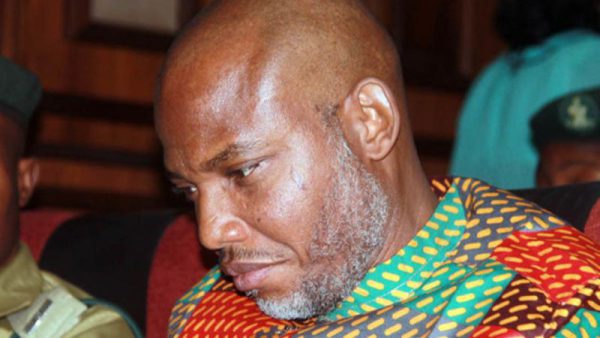 The leader of the Indigenous People of Biafra (IPOB), Nnamdi Kanu, has lamented that "everything those who fought for Biafra accomplished" has been destroyed by some selfish pro-Biafra activists.
Naija News reports that the IPOB leader, who is on exile, made this comment in during a live broadcast on Radio Biafra on Sunday, May 24.
The obviously angry Kanu stressed that he would have sold Biafra struggle if he wanted to while he was in Kuje prison. On 28 April 2017, Kanu was released from prison on bail after spending almost a year in detention.
Naija News recalls that before the emergence of Mr Kanu as the face of the Biafra struggle, late Chukwuemeka Odumegwu Ojukwu who was a Nigerian military officer and politician who served as the military governor of the Eastern Region of Nigeria in 1966, was the leader of the breakaway Republic of Biafra from 1967 to 1970.
After Ojukwu died aged 78 on November 26, 2011, Ralph Uwazuruike, the leader of the Movement for the Actualization of the Sovereign State of Biafra (MASSOB), a group canvassing for the secession and sovereignty of Eastern Nigeria, became the face of the Biafra struggle before Nnamdi Kanu took over with his IPOB.
Since Kanu's emergence as the face of Biafra, his group, the IPOB and MASSOB founded by Uwazuruike, have been on loggerheads with Kanu constantly attacking the MASSOB leader for allegedly taking kickbacks from the Nigerian government to sabotage the struggle, an accusation which has overtime been countered by Uwazuruike, who has also described Kanu as a "sold out activist".
In what appears to be a reaction to the ongoing rift between different Biafra groups, Kanu said on Radio Biafra: "We are destroying everything that those who fought for Biafra accomplished due to our selfishness.
"If I wanted to sell this struggle, I would've done it in Kuje Prison. They came to me and I turned them down," the IPOB leader said.