Native Doctor Reveals Prophet Odumeje's Source Of Power, Performs 'Deadly' Ritual On Indaboski (Video)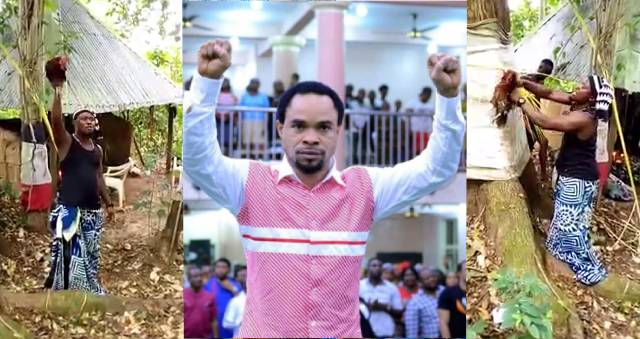 Prophet Chukwuemeka Ohanaemere
better known as
Prophet Odumeje
source of power is from India, a native doctor from Arondizuogu in Imo State, southeast Nigeria has said, adding that he cannot get his power from a foreign land and test in their Own Land.
Naija News recalls that Odumeje, who is the Spiritual Director of Mountain of Holy Ghost Intervention Deliverance Ministry World Miracle Center, alias Land of Freedom, was challenged to a spiritual battle by Omor Perry, a popular native doctor and the son of late Pericoma, last week after the controversial Anambra prophet insulted Pericoma and the people of Arondizuogu.
Days after the challenger went viral, a new video has emerged, a native doctor of Arondizuogu, Imo state, southeast Nigeria, performing a ritual to curse the controversial Anambra prophet for insulting the late herbalist Pericoma and the people of Arondizuogu.
In a viral video, villagers and elders could be seen sitting at the big shrine while the native doctor performs rituals against Prophet Odumeje using his native language. The native Doctor called on all their gods to come out and fight prophet Odumeje fondly called "Indaboski Bahose" for condemning.
The native doctor killed a life fowl which he said it represents Odumeje while breaking the fowl's legs, he cursed Prophet Odumeje and his Family. The native doctor then went further to slaughter a fowl which he claimed had been invoked with the spirit of the prophet.
Watch the video below…
https://youtu.be/5Jqldgv_LH4