Nollywood Actor Zubby Michael Turns Prophet Odumeje In 'Obele Chukwu Movie' (Video)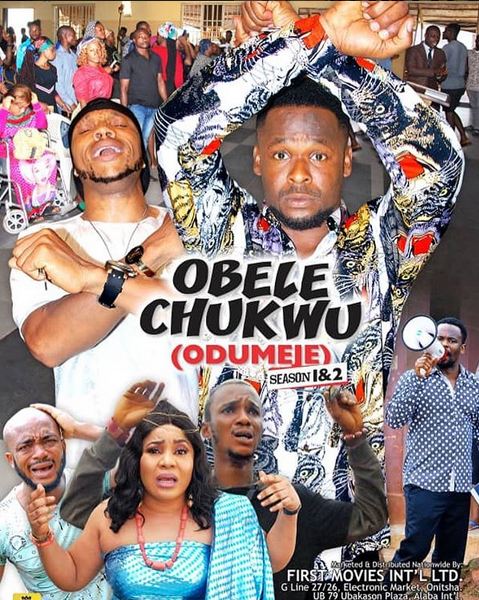 Nollywood Actor, Zubby Michael has replicated the miracle style of a controversial Anambra prophet, Chukwuemeka Ohanaemere, popularly known as Prophet Odumeje, in his latest movie, "Obele Chukwu."
Naija News reports that the Nollywood actor, fondly called "Eze Ndiala" (King of mad people) by some of his supporters, is a member of the Mountain Of Holy Ghost Intervention in Onitsha, Anambra State, southeast Nigeria, a church Prophet Odumeje heads.
This online news platform understands that Prophet Odumeje has come under several attacks in the Nigerian media for conducting what many describe as "controversial miracles" on his members such as slamming of his church members on the floor just like its seen in a wrestling ring.
Recently, the controversial prophet stirred controversy on the micro-blogging site, Twitter, after a video of him being blocked by a policeman from seeing Governor Abdullahi Ganduje of Kano State, northern Nigeria went viral. The Prophet, however, denied he was approaching the Kano governor as widely speculated.
In the movie, Michael who played Prophet Odumeje could be seen slamming a sick person on the ground in a bid to cure him of the sickness, this was even as he was seen in another scene, stepping on the leg of a lady who had leg poison to heal her just like Prophet Odumeje practices.
The movie which was produced by Zubby Michael and Emeka Anene Ferdinand of A1 Movies and First Movies respectively has top Nollywood actors such as Charles Okocha and Harry B among the cast.
Describing himself as a "mini-god" in "Obele Chukwu movie", Prophet Odumeje's replica could be seen spraying money in the air and hanging out with celebrities just like Prophet Odumeje is known for in Onitsha, the commercial nerve of Anambra State.
Mr Michael took to social media network, Instagram to announce that the part 1&2 of the movie "Obele Chukwu aka Odumeje" is out and that Nollywood fans should anticipate the part 3&4 which he said would be coming out soon.
Watch the trailer of the movie below…