Prophet Odumeje Breaks Silence On Plans To Walk On Water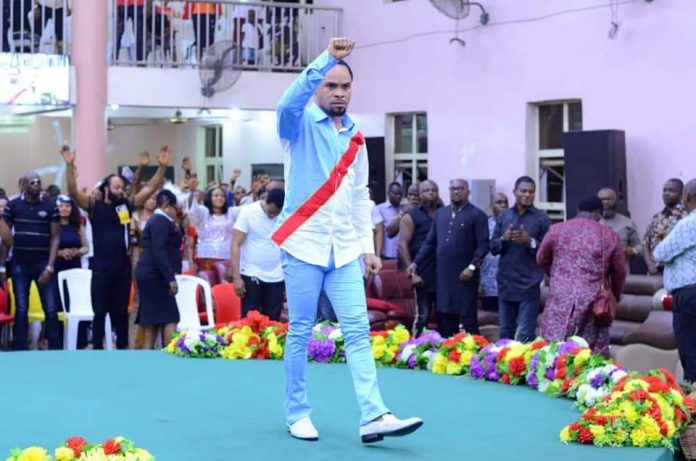 Prophet Chukwuemeka Odumeje, a controversial Anambra prophet, has denied ever saying he would walk on water as widely reported.
Reports monitored by Naija News had quoted Prophet Odumeje, who is the director of Mountain of Holy Ghost Intervention Deliverance Ministry, an Onitsha based church, to have informed his congregation of his proposed plan to "walk on water" during one of the services recently.
Naija News understands that the sleek cleric, who is known for conducting what many describe as "controversial deliverance" on his members, was to try and replicate Jesus Christ "walking on water" miracle at the  River Niger and was believed to have invited journalists to come and cover the event.
However, on Friday, August 9, Prophet Odumeje, fondly called "The Lion or Liquid Metal," denied this in a statement on social media network, Instagram, describing it as "propaganda from haters."
In a terse statement titled "Public Announcement", Prophet Odumeje said: "I Prophet Chukwuemeka Ohanemere (TheLion) did not say or intend walking on River Niger like they pronounced.
"It's just a propaganda from haters. Nobody competes with Jesus Christ," the prophet said.
Prophet Odumeje also warned people against attacking men of God so they will not attract the anger of God.
"Mind the way you go against men of God!!!
"Confirm a post before commenting so that you will not attract the anger of God!!!"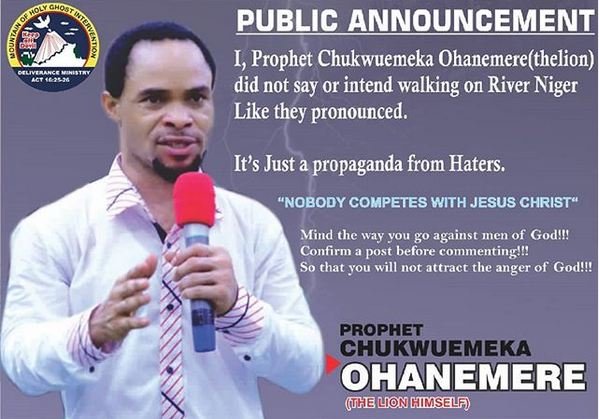 The apparently furious prophet went further in an Instagram post saying: "To hate someone is to lift Him high to another level.
"I know people are waiting to be disappointed on the so-called 19th. God is still God and can never change. Immediately Lucifer tried to compete with Him…He dethroned him. I still remain #thelionhimself because my father is the lion of the tribe of Judah, the King of Kings.
"Don't try to hate me because you will end up killing yourself…**jukwa ese** If you know the originator of this propaganda, tell him/her to provide the clip where I made such statement or face #thelionhimself because I don't spare my enemies," he added.