Amotekun Law Will Be Ready By Valentine's Day – Governor Fayemi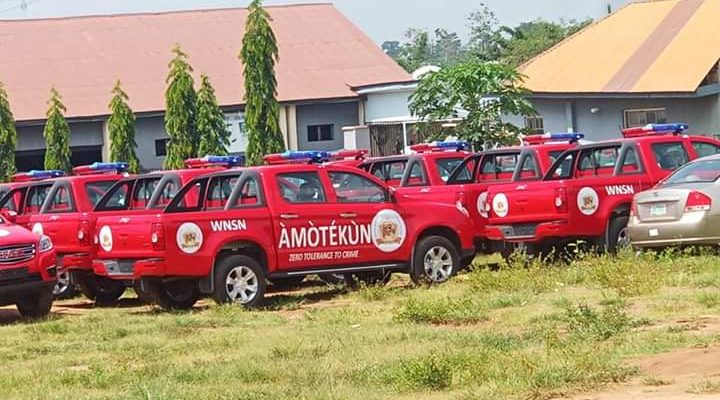 Amotekun To Get Legal Backing
The law giving legal backing to the establishment of the South-West security outfit codenamed Operation Amotekun will be ready by Friday, 14th February 2020, Governor Kayode Fayemi of Ekiti State has disclosed.
Governor Fayemi made the disclosure on Monday when he received the draft bill for the establishment of the security outfit from Ekiti State Attorney General and Commissioner for Justice, Mr Wale Fapounda.
Naija News understands the Amotekun bills would also be ready and signed into laws simultaneously across the six states in the region by Friday.
Fayemi further noted that the law on Amotekun is part of the agreements reached by the state governors and the federal government over the setting up of the Amotekun outfit.
The governor also maintained that the outfit will not be in contention with other conventional security establishments but will complement their efforts towards making the society a better and safer place for everybody.
"A lot of people misconstrued what Amotekun initiative is all about.
"It is not an exclusive protection for the indigenes alone, but for the safety and security of every citizen and resident in the six states, regardless of where they may have come from, and as long as they are legally resident and respect the law of the land.
"It is within the jurisdiction of our responsibility to ensure safety of lives and property.
"Amotekun is a complementary effort to the community policing initiative of President Muhammadu Buhari."
Fayemi expressed also gave assurances that the bill will be given priority in all the six states of the region to ensure it is ready by Friday.
"I want to assure you that it will be given accelerated discussion at our various state executive councils and expeditious passage at the state houses of assembly.
"To let you know how serious we are, some states had quickly recalled their lawmakers back from recess, so that they can sit and debate the bill.
"By Friday 14th of February, the bills would have been ready and signed into laws simultaneously across the six states in the region," Fayemi said.
Source: Naija News