Boko Haram: Execution of its Members Adamawa CAN Chides Buhari, Calls For Intervention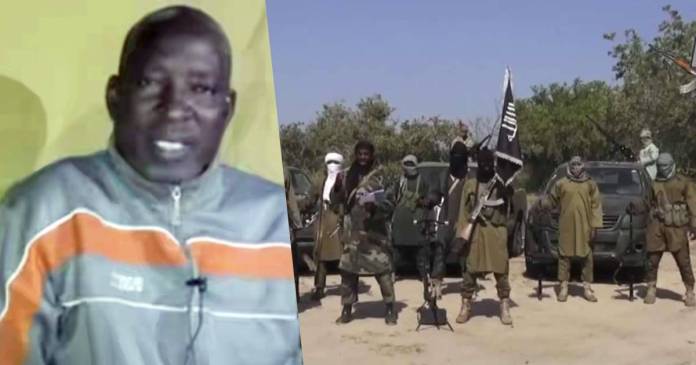 The Christian Association of Nigeria CAN have expressed concern over the increase execution of its members and leaders by the dreaded Boko Haram insurgents.
This is coming as faction of the terror group, Jama'atu Ansril Muslimina Najeriya better known as Ansaru, threatening series of attacks in North-Central Nigeria.
Naija News earlier reports that Boko Haram had on Tuesday released a new video of how it executed Rev.Lawan Andimi the CAN chairman in Michika area of Adamawa.
Andimi was from Kwada village in Chibok local government area of Borno state but worked as a pastor and was abducted early January when the insurgents attacked Michika.
However, disturbed by the series of execution CAN prevail on president Buhari to be proactive in securing the release of its members and other Nigerians being held by Boko Haram.
Speaking to newsmen in an atmosphere of despair and agony the CAN chairman in Adamawa Bishop Stephen Dami Mamza said the clergyman was killed on Monday and there could be silent execution of their members.
"Since yesterday when we heard that Boko Haram killed   Rev.Lawan Andimi we were all thrown into mourning and agony.
''He was one of our great leaders in northern Adamawa zone, because at some point, the insurgents reached out for negotiations, and the church was still trying to see how they can get on with the terms.
'' Three days after his abduction, the insurgents have reached to his family and leaders of EYN and negotiations.
'' They demanded the huge sum of 2 million Euros as ransoms.
'' In fact, on Sunday, we thought certain agreements were reached and achieved only to now hear and confirmed his execution and may his gentle soul rest in perfect peace!
''We condemned it in strong term and calling on President Muhammadu Buhari in the spirit of humanity work for the release of all in Boko Haram captivity.
''There still hundreds in their hands and only God knows when will they regain their freedom, for God and humanity sake we want Nigeria's government to urgently do something,'' he urges.
An impeccable source told Naija News that an N50 million offer was made to the Boko Haram insurgents for the release of the slain CAN chairman, '' but unfortunately, they (Boko Haram) rejected the offer and stopped further negotiations and later killed the abducted cleric in the pretext that he refused to accept Shahada- meaning he refused to accept and proclaim their religion of Islam.
'' I believe that's not true because in Islam, we have been told that no compulsion,'' said a relative of the killed clergy.
It was gathered that after failing their ransom demand, the insurgents severed negotiations and called the wife of the abducted pastor and told her that they will kill him on Saturday but postponed the execution till Monday.
Andimi was abducted on Jan 4, 2020 when they launched attack on Michika and Madagali local governments of Adamawa State but were repelled by soldiers in synergy with local vigilante operatives.
Shortly after his abduction, Andimi, was seen in a video posted on Twitter by Ahmed Salkida a journalist who has access to Boko Haram saying that he was captured by the insurgents.
Andimi pleaded with the Adamawa State Government and CAN leadership to come to his rescue.
The cleric, who spoke in Hausa and English intermittently, urged his family not to be afraid, adding that he would return home safely if it is the will of God.
Days after his abduction, the clergyman, in a video clip, asked Ahmadu Fintiri, governor of Adamawa, to rescue him.
"I have never been discouraged because all conditions that one finds himself …is in the hand of God. God who made them to take  care of me. So, the summary of my speech; I am appealing to my colleagues, reverends, particularly my president, Reverend Joel Billy who is a strong man, a man of compassion and man of love. He can do all his best to speak to our governor, Umaru Jibrilla (Fintiri) and other necessary agents for my release here," he had said.
On Christmas eve, a faction of Boko Haram affiliated to the Islamic State, killed 11 Christian captives in Borno, and said the action was taken to avenge the deaths of Abu Bakr al-Baghdadi, the late IS leader, and Abul-Hasan Al-Muhajir, its spokesman, who was killed in Syria in October.
Similarly, four abducted aid workers of the Action Against Hunger, an international non-government organization, were also killed by the Islamic State in West Africa Province (ISWAP) in December.
The insurgents said the aid workers were killed because of the breakdown of talks with the federal government.