Fresh Boko Haram Attack Claims 17 Soldier Lives, Many Abducted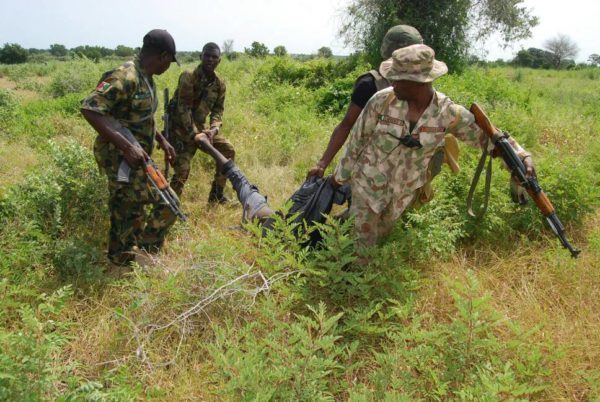 In a gun battle that lasted for several hours on Friday and Saturday in Borno State between troops of the Nigerian Army and Boko Haram, no fewer than 17 soldiers were said to be killed.
According to a report made available to Naija News, the deadly Islamic sect was said to have launched an attack at Firgi, a town not far from Pulka north, in between Gwoza and Bama community, on Friday, leaving dead about 13 soldiers while many others were abducted.
Though, source claim that there is a high number of casualties on the Boko Haram side, but certainty on their numbers at the time the report was given.
It was also said that the Boko Haram carted away from the attack some arms, ammunition and vehicles belonging to the Nigerian Army.
However, no comment has been made at this time from either Col. Sagir Musa, Army spokesman, and Col. Isa Ado, spokesman for the Military Joint Task Force on Counter-Insurgency in the North-East, Operation Lafiya Dole.
Meanwhile, it was reported that the head of the counter-insurgency operation in the North-East, Maj. Gen. Olusegun Adeniyi, in a party organised for the troops in Maiduguri on Saturday, claimed that Boko Haram had failed in the ongoing war against the country.
He said; "Boko Haram has failed, we are not going to let them get an inch of land in Borno, Adamawa and Yobe states."
"We are happy to dance and shame Boko Haram who do not want us to be happy."
Naija News had also reported that a 22-year-old nurse identified as Jennifer Ukambong, who was held in captivity for about one month by Boko Haram terrorist group, says Leah Sharibu is currently located somewhere around Lake Chad.
Source: Naija News