US vs Iran: Watch How Missile Took Down Ukrainian Plane (Video)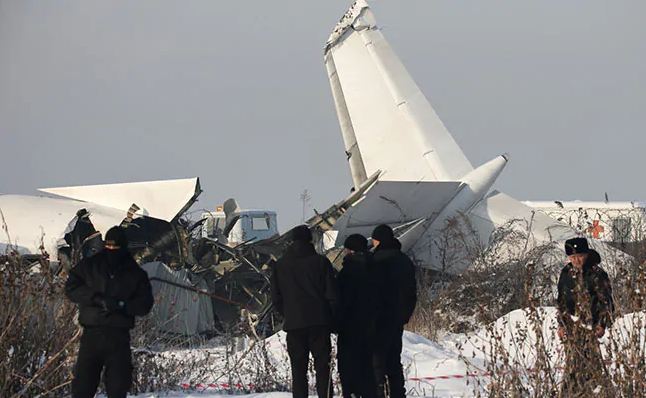 A video has emerged online purportedly showing the moment a Ukrainian airliner carrying 176 passengers was hit by a missile before crashing at Iran's airport in Tehran.
Naija News recalls that more than 60 Canadians died in the crash of the Ukrainian plane in Tehran that crashed on Wednesday.
Of the 176 passengers and crew on board the Boeing 737 of Ukraine International Airlines, which was on its way to Kyiv, Ukraine, none survived. Among them were 63 Canadians and 82 Iranians. Ukrainian Foreign Minister Vadym Prystaïk also said that 11 Ukrainians including two passengers and nine crew members, ten Swedes, four Afghans, three Germans and three British lost their lives.
The plane crashed a few minutes after takeoff, about 45 km northwest of the airport, Ukraine International Airlines confirmed in a statement. A maintenance operation was carried out on the aerial vehicle on January 6, two days before the accident.
In a fresh development, the New York Times and CNN disclosed that they were sent the video of the missile hitting the plane by internet-freedom researcher Nariman Gharib, who said he obtained it from another individual.
The New York Times said the video shows an explosion in the sky over Parand, near Tehran, the suburb where the Ukrainian airliner first stopped transmitting its signal.
The plane continues to fly for several minutes before turning back towards the airport before exploding the crashing.
Bellinggcat, an independent international collective of researchers and citizen journalists, using geolocation technology and other techniques, established the video was taken in Parand.
Bellingcat said it was possible that two missiles were fired, prompting the person filming to start recording.
The Iranian government has however denied that the plane was hit by a missile.
"All these reports are a psychological warfare against Iran … all those countries whose citizens were aboard the plane can send representatives and we urge Boeing to send its representative to join the process of investigating the black box," Iranian state TV quoted government spokesman,Ali Rabiei who said this in a statement.
We are analyzing this new video supposedly showing a mid-air explosion. By our initial estimation, the video shows an apartment block in western Parand (35.489414, 50.906917), facing northeast. This perspective is directed approximately towards the known trajectory of #PS752. pic.twitter.com/nDvjRIkFU4

— Bellingcat (@bellingcat) January 9, 2020
Source: Naija News