Live Updates: Kogi West Senatorial District Supplementary Election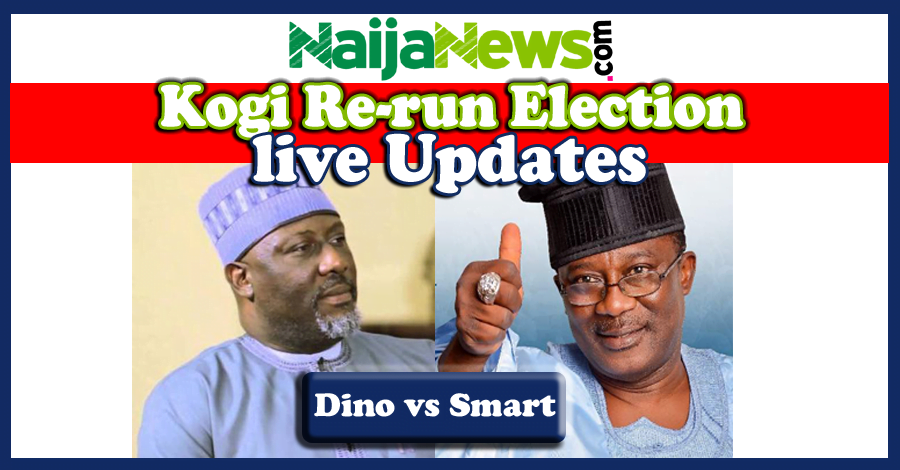 The Independent National Electoral Commission (INEC) has scheduled today, November 30, 2019, for the Kogi West Senatorial District supplementary rerun election.
Naija News reports that the major candidates contesting the election are Senator Smart Adeyemi of the All Progressives Congress (APC) and Senator Dino Melaye of the Peoples Democratic Party (PDP).
Recall that the electoral umpire declared the Kogi West Senatorial Rerun inconclusive.
The Kogi West senatorial election was held on Saturday, November 16, 2019.
Smart Adeyemi polled a total of 80,118 votes, Dino Melaye had 59,548, leaving a margin of 20,570.
With 43,127 votes cancelled across the seven LGAs where the election held.
Reload this page to get fresh updates of the Kogi West Senatorial District election.
Latest updates below:
Voting has ended as collation and announcement of results commences.
01:40 pm: Police reportedly harass and collected the phone of an election observer at PU:008, Ward: Ganaja, LG: Ajaokuta.
His phone was later returned to him after the pictures he took were deleted.
01:15 pm: At PU 002 in Lokoja B registration area protests have broken out as voters accuse INEC ad hoc staff of tampering with ballot papers.
A man claimed he saw one of the electoral officials folding some ballot papers into a bag.
12:55 pm: "Vote buying" reportedly ongoing in PU 001 in Ayetoro ward where Melaye comes from for as low as N2000″.
12: 30 pm: Voters have nabbed people in police uniforms who arrived at PU:008, Ward: Ganaja, Ajaokuta LG, at about 11:08 am. It was later discovered that they were impersonating officers of the Nigeria police force.
They have been apprehended by the police.
12:05 pm: Senator Dino Melaye has cast his vote in the Kogi West Senatorial district supplementary election rerun.
Speaking after casting his vote, Melaye said that if the Independent National Electoral Commission (INEC) does not review the initial poll, he will head to court.
"What we have as a result is fraud… a major fraud," he said.
11:30 am: At Kabba/Bunu LGA, Ward: Ashta PU:002, Naija News gathered that there are reports of Open vote-buying.
Time: 10:34
LG: Lokoja
Ward: Anguan Pawa
PU:005
Report: Only one of six card readers deployed is working #KogiWestSR2019 #KogiWestDecides

— Situation Room (@SituationRoomNg) November 30, 2019
11:05 am: Voting has ended in Odolu Feyinti Quarters, PU 005, Odolu Ward 4, Kabba Bunu LGA and counting ongoing. Voters have been told to go back home that the process was over.
10:45: INEC officials are processing voters for accreditation and voting at St. Barnabas Secondary School Polling unit 04, Odolu ward, Kabba Bunu.
Time: 9:47am
LG: Kogi Koto-Karfi
Ward: Nkwo
PU:003
Report: Reports of vote-buying ongoing. No additional voting point provided even though the 820 registered voters #KogiWestSR2019 #KogiWestDecides

— Situation Room (@SituationRoomNg) November 30, 2019
Time: 9:31am
LG: Ijumu
Ward: Ayetoro
PU:002
Report: Accreditation and voting ongoing. Security agents and party agents present #KogiWestSR2019 #KogiWestDecides

— Situation Room (@SituationRoomNg) November 30, 2019
Time: 8:37
LGA:LOKOJA
Ward:B
PU:001
Report : Report of open vote buying @inecnigeria @PoliceNG #KogiWestSR2019 #KogiWestDecides

— Situation Room (@SituationRoomNg) November 30, 2019
Time: 9:30am
LG: Kabba/Bunu
Ward: Asuta
PU:005
Report: Voting and accreditation ongoing. Low voter turnout recorded. security officials and party agents present. #KogiWestSR2019 #KogiWestDecides

— Situation Room (@SituationRoomNg) November 30, 2019
Time: 8:30am
LG: Lokoja
Ward: Lokoja Yagari open space
PU:002
Report: Accreditation and voting ongoing #KogiWestSR2019 #KogiWestDecides

— Situation Room (@SituationRoomNg) November 30, 2019
Time: 8:29am
LG: Kabba/ Bunu
Ward: Okiko
PU:003
Report: Arrangement of electoral materials ongoing. Low voter turnout recorded #KogiWestSR2019 #KogiWestDecides

— Situation Room (@SituationRoomNg) November 30, 2019
Time: 8:30am
LG: Lokoja
Ward: 4
PU:002
Report: accreditation and voting yet to commence although @inecnigeria and security officials are on ground. #KogiWestSR2019 #KogiWestDecides

— Situation Room (@SituationRoomNg) November 30, 2019
Download NAIJA NEWS app: