Biafra: Nnamdi Kanu Slams Justice Nyako, Tells Her To Take Her Family To Prison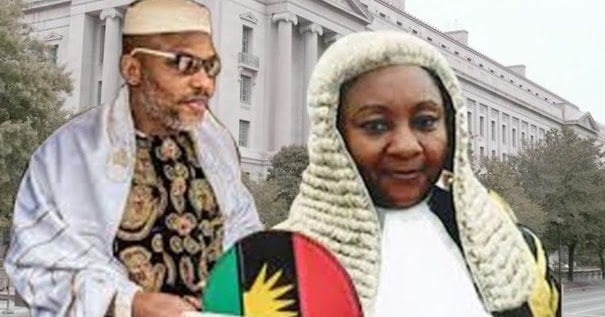 Kanu Blasts Justice Nyako
The leader of the Indigenous People Of Biafra (IPOB), Mazi Nnamdi Kanu has replied Justice Binta Nyako over her claims that Kanu could only be safe in the prison.
It will be recalled as earlier reported by Naija News that the IPOB leader on Thursday, said he was ready to return to Nigeria and face trial if the court could guarantee his safety.
Kanu made his submission while speaking through his lawyer, Ifeanyi Ejiofor before Justice Binta Nyako of the Federal High Court, Abuja.
However, in her response after hearing the submission by Kanu's lawyer, Justice Nyako declared that the only way to keep the IPOB leader safe upon his return to Nigeria was to put him away in prison.
Reacting to the Judge's response, Nnamdi Kanu in his own response contained in a tweet on his Twitter handle on Friday 1st November said the justice should rather move her family to the nearest prison.
He also lamented the submission by the Judge that no one is safe in the country again because of the activities of some criminals.
"Nigeria is NOT safe for anyone, including judges." If in her view prison is the safest place to live for Nigerians, I suggest her family move into the nearest one to avoid being abducted. Nigeria is lawless, confirmed!, Kanu said.
According to Justice Binta Nyako, "Nigeria is NOT safe for anyone, including judges." If in her view prison is the safest place to live for Nigerians, I suggest her family move into the nearest one to avoid being abducted. Nigeria is lawless, confirmed!https://t.co/tlaBPh5Wey pic.twitter.com/86Tmqg1oj9

— Mazi Nnamdi Kanu (@MaziNnamdiKanu) November 1, 2019