Nigerians Mock Osinbajo, Presidency Over Alleged Sidelining In Government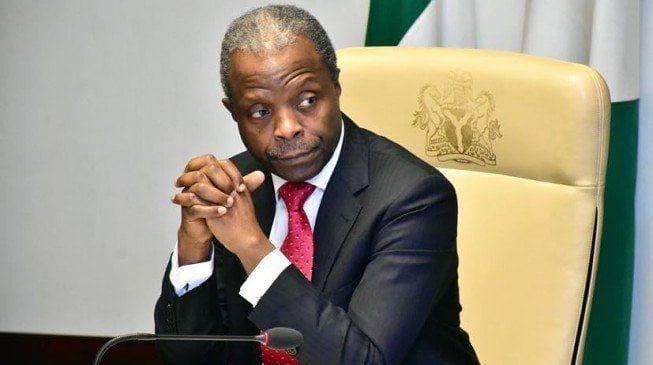 Reports have been making the rounds that that Vice President Yemi Osinbajo has been stripped of some of his powers by President Muhammadu Buhari and reduced below his constitutional responsibilities.
Insinuations have also been that the "cabals" are trying to remove Osinbajo to hinder him from the race for the 2023 presidency.
Further, more a former minister of aviation, Chief Femi Fani-Kayode  today warned that if necessary steps were not taken, Vice President Yemi Osinbajo may soon be sacked from office.
Meanwhile, some Nigerians have taken to Twitter to mock the vice president over the development. See reactions below:
Osinbajo Can Go Back To His Pastoral Work At RCCG When All Else Fails – FFK https://t.co/IJUg6WzKKY pic.twitter.com/HssUbqGlS7

— Naijamp3king Official (@Naijamp3king) September 19, 2019
Let Osinbajo resign and moves his family out of Aso rock before it is too late. Tinubu is reaping from what he sow. https://t.co/3N5VLuG8Er

— God'slove (@olufemirock) September 19, 2019
If you eat with the devil, you need a very long spoon so that you can keep your distance.

If you mix with bad people, you should be careful not to be influenced by them.

He was happy to use trader moni program to buy votes… today the reward is here.https://t.co/wlUoF4rST2

— Adetutu Balogun (@Tutsy22) September 19, 2019
Osinbajo Will Soon Wash Toilets, If He Doesn't Resign– Fani Kayode https://t.co/sHMF2zA1fb pic.twitter.com/kXMlmdhoJv

— Thepointernews1 (@Thepointernews2) September 19, 2019
Southern Nigeria, open your eyes!

Wake up!

This is not about Osinbajo but power shift in 2023!

Wake up!!!

— Henry Shield (@henryshield) September 19, 2019
I see some Southerners mocking Osinbajo for what the cabal is doing to him. You guys are so terribly blind.

— Henry Shield (@henryshield) September 19, 2019
Theory proven. No good deed goes unpunished. https://t.co/G3ghQbIKgM

— SEGA L'éveilleur®🚨 (@segalink) September 19, 2019
I will not be surprised if they sack osinbajo and make abba kyari the Vice President 👀 https://t.co/cZNrvFfbjt

— QUDUS (@QdPaper) September 19, 2019
Afenifere: VP Osinbajo's office has been rendered useless, impotent https://t.co/MvVzZdOAFT

— TODAY (@todayng) September 19, 2019
Why are they whining about Osinbajo situation, they are even placing the blame on his actions of appointing Onnoghen as the cause of his misfortune!

This is not the morning yet, next will be Tinubu then the morning will begin

— Franklin Ekechukwu (@Frankekechukwu) September 19, 2019
Stripped of powers over NBC
Stripped of powers over NCP
Stripped of powers over BCDA
Stripped of powers over NEMA
Stripped of powers over NIPSS
Stripped of powers over NDPHC

Reconstitutes EMT, removes Osinbajo.
Dissolves SPIP, formed by Osinbajo.

Slowly but surely

cc: Tinubu

— Young Otutu (@YoungOtutu) September 18, 2019
Read More News. Download Naija News App. Send us enquiries and press releases.