Biafra: Explain Your Role In IPOB's Ban, Nnamdi Kanu's Lawyer Tells S/East Govs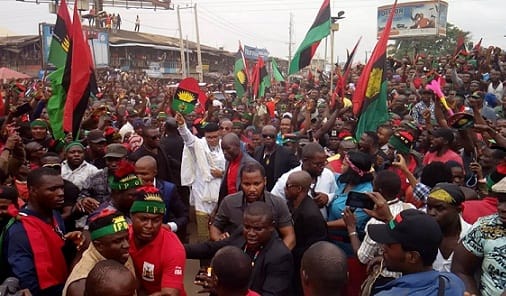 Counsel to the Indigenous People of Biafra (IPOB), Aloy Ejimakor, has called on South-east governors to explain to Igbos their role in the 2017 Operation Python Dance that led to the ban on IPOB.
In an open letter entitled: "Python Dance: An Open Letter to South-East Governors," Ejimakor, who is also counsel to IPOB Leader, Nnamdi Kanu, challenged the governors to convince Igbos.
The legal practitioner maintained that the governors should go back to the dialogue they were having with Kanu in 2017.
Ejimakor stated that even though the 2017 dialogue was yielding results, the governors "unilaterally and summarily ended and made it worse by resorting to the proscription that stigmatised the Igbo people.
"The proscription also watered the ground for the various unconstitutional acts against the Igbo that ensued, including the declaration that millions of unarmed southeasterners were terrorists."
He urged the governors to gather together and de-proscribe IPOB, as they did in September 2017 and apologise to Ndigbo for hurriedly resorting to an action that was wrong and dangerous.