Daddy Freeze Roasts Oyedepo For Cursing Fulani Herdsmen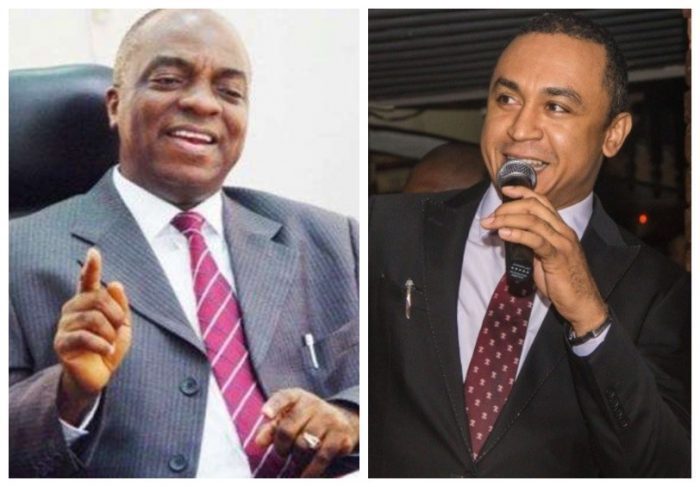 Social media critic and founder of Free Nation, Ifedayo Olarinde, popularly known as Daddy Freeze has attacked the presiding Bishop, Living Faith Church Worldwide, David Oyedepo for cursing Fulani herdsmen.
Naija News understands that Freeze subjected the general overseer to fresh attach while reacting to Oyedepo's action, cursing the herdsmen who killed one of his pastors.
Recall that Oyedepo had on Thursday night placed curses on alleged Fulani herdsmen who killed one of his pastors, Jeremiah Omolewa. The bishop was visibly angry when he placed the curses.
Meanwhile, while reacting to Oyedepo's cursing of the herdsmen, Daddy Freeze described the action of the bishop as ungodly and not Christlike.
He said Oyedepo had shown that he is not Christlike in action and leading Christians astray; Freeze took to his Instagram handle to air his views about the action of the general overseer.
In his words, he said; "Ewo n' tepe.. In Jesus name we have cursed…🤣 What an unchristlike soul leading supposed Christians.🙄"
He then quoted from Matthew 5:44, which said: "But I say, love your enemies! Pray for those who persecute you,"
and Luke 6:27, which said: "But to those of you who will listen, I say: Love your enemies, do good to those who hate you," to buttress his points.
Daddy Freeze also cited Luke 6:28, which reads: "Bless those who curse you, pray for those who mistreat you;" Romans 12:14, which said: "Bless those who persecute you. Bless and do not curse," and Romans 12:20, which reads: "On the contrary, If your enemy is hungry, feed him; if he is thirsty, give him a drink. For in so doing, you will heap burning coals on his head," to fault Oyedepo's action.
According to Daddy Freeze, 1 Thessalonians 5:15 also said "Make sure that no one repays evil for evil. Always pursue what is good for one another and for all people," while Exodus 23:4, said "If you come upon your enemy's ox or donkey that has strayed away, take it back to its owner."
Read More News. Download Naija News App. Send us enquiries and press releases.