Irate Mob Apprehends Man While Molesting Teen (Video)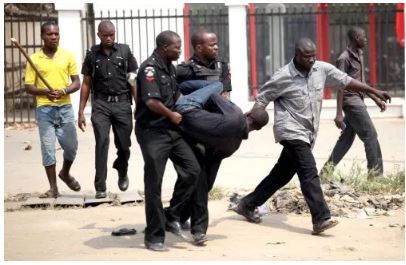 Angry mob in the Maraba area of Nasarawa state on Saturday dealt brutally with a middle-aged man for allegedly raping a teen.
Naija News understands that the middle-aged man whose name was not revealed had called the teen girl, suspected to be less than 12 years old to a secret corner where the eyes of passerby could not reach him, with the alleged aim of molesting the girl.
The Suspect was reported to have called his victim under the guise of patronising her as she hawks to make ends meet for herself and her family.
In a video obtained by Naija News, the Irate mob who caught the middle-aged man in the act of attempting to seduce his victims through his hand movements, descended on him and had to make the Suspect swim in a stagnant, mod pool.
Watch the video obtained by Naja News below
Source: Naija News