COZA: Nigerians React As Pastor Fatoyinbo Returns To Pulpit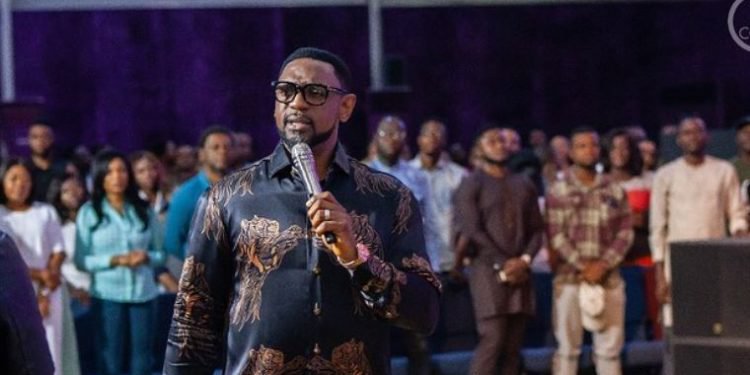 Nigerians have expressed mixed reactions over the return of the Senior Pastor of the Commonwealth of Zion Assembly (COZA) Pastor Biodun Fatoyinbo to the pulpit.
Naija News recalls that celebrity photographer and wife of singer Timi Dakolo, Busola, had accused Fatoyinbo of raping her 20 years ago.
This led to protest calling on the popular pastor to step down from the pulpit and allow proper investigation.
In a post on Instagram, the COZA pastor announced that he will be stepping down from the pulpit.
However, Pastor Fatoyinbo on Sunday returned to the pulpit despite the rape saga still ongoing.
See Nigerians reactions on Twitter:
Look what we saw on YouTube ooooo 😂😂😂😂😂 #COZA #SundayMorning pic.twitter.com/S65mHQ3Zf3

— The King of the World (@AK_Cole) August 4, 2019
And God was/is a man
Thru Jesus

Soooo… i dunno why y'all like Judging yourselves sha #COZA

— SAMSON (@Stakey_Chan) August 4, 2019
Pastor Biodun and his fellow Rapist celebrating him as he stand on the Alter to preach.

If you are member of #Coza and you were here clapping you are Rapist. pic.twitter.com/mQ3vjliwwv

— shamsudeen Abdulkareem (@shamsudeenAY) August 4, 2019
I find it hard to believe that the #COZA Pastor mounted the pulpit and still had the church members cheering him on like a hero! 😮

Religion proves itself again as the biggest brainwashing technique in Nigeria

Sad 😞

— Peng Man 🔥 (@mjjuniormodel) August 4, 2019
People on twitter dont deserve God's mercy. Quick to judge and never forgetting people's fault. So Pst Biodun cant stand back on the pulpit because God is unforgiven like u abi? #COZA pic.twitter.com/vddetFYop1

— Black AbrahamLincolN (@Darksaint_911) August 4, 2019
This was an introduction before the pastor went on pulpit to preach. #COZApic.twitter.com/3P3COncXi6

— Millionaire BusinessMan 🇨🇦 (@tboss_guy) August 4, 2019
My advice to #COZA Pastor: Beyond what people say or feel or tweet, you must know you are accountable to God. If these allegations are true, trying to muscle your way through it only fills the cup of retribution. Not because God is not merciful, but because the enemy seeks…

— wiseONE (@wiseONE25454484) August 4, 2019
Again another rape case bites the dust.
Pastor Biodun Fatoyinbo is back on the pulpit. This is Nigeria!#COZA pic.twitter.com/SOqKctgJsS

— As A Boss..! (@JC_Jokes) August 4, 2019
Shout out to those that took their time and resources for the protest for waste it is.. Hope you gat better things to do next time 👏👏👏#COZA

— Yo Baby 🍭🍭 (@prince_stally) August 4, 2019
Pastor Biodun back on the altar

No Robust Reply

I hope the Same Pastors that advised he stepped down till issues raised were addressed will also speak out and explain this

Has he been cleared?

Or was the stepping down just a PR strateg#COZA

— Bosses Don't Sleep (@fk149) August 4, 2019
#BREAKING The #COZA army has arrived. A closing ensemble with military style decked church members dancing to hip-hop music saluting Biodun Fatoyinbo and his wife Modele. Thank you for joining me in my exclusive coverage of his return. #biodunfatoyinbo #coza #cozapastor #ijcoza pic.twitter.com/NCsVwLvX2O

— Dr Kemi Olunloyo (@HNNAfrica) August 4, 2019
Download Naija News App. Advertise with us. Send us enquiries and press releases.