#FreeSowore: Nigerians Call For Sowore's Release After DSS' 'Arrest'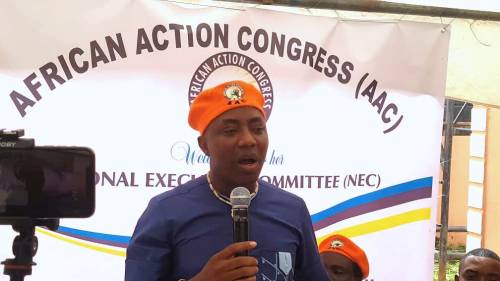 Nigerians have taken to the micro-blogging site, Twitter to call for Omoyele Sowore's release after he was reportedly arrested by operatives of the Department of State Services (DSS).
A report monitored on Sahara Reporters by Naija News, says the former Presidential candidate was picked up at his apartment in the early hours of Saturday, August 3.
This online news platform understands that Sowore, a pro-democracy activist, posted a distress tweet at exactly 1:25 am after which his platform, Sahara Reporters reported that he has been arrested by the EFCC.
The tweet read, "DSS invades Sowore's".
The report of his arrest, which Naija News could not confirm at the time of filing this report, said an eyewitness confirmed that Sowore's phone was forcefully taken from him.
After tweeting "DSS invades Sowore's," the 2019 African Action Congress (AAC) Presidential candidate tweeted " Ja p" in what could be interpreted as an attempt to escape from a particular situation according to the lyrics of Naira Marley's song "Ja Pa."
However, Sahara Reporters noted in its report that the tweet "Ja P" confirmed that Sowore's phone must have been seized while trying to raise the alarm about his arrest.
Moments after the news of Sowore's purported arrest broke, Nigerians took to Twitter to demand his freedom with the #FreeSowore, which currently tops Nigeria Twitter trend as at 5:39 am.
Naija News captured some of the demands below…
Nigeria government can arrest those who are agitating for good governance but they can negotiate with Boko Haram, bandits and kidnappers, herdsmen even assuring us that Boko Haram can become Nigeria president.#FreeSowore

— Buhari Olanrewaju Ahmed (@crownmed) August 3, 2019
Nothing can stop an idea who's time has come. It's times up for the establishment. #FreeSowore #Sowore #RevolutionNow #DaysofRage pic.twitter.com/zFoSPbUWlu

— Sena Kojah (@the_senami) August 3, 2019
DSS Assaulting & Arresting @YeleSowore For Planning A Peaceful Protest? This Is Why Many Are Afraid Of Hitter @MBuhari But The Voice Of Nigerians Must Prevail#RevolutionNow #FreeSowore. @AishaYesufu @ChidiOdinkalu @USEmbassyAbuja @realDonaldTrump @cchukudebelu @RuggedyBaba pic.twitter.com/Ny9YKyzGuc

— Isaac Obasi? (@Evang_IsaacObas) August 3, 2019
The arrest of @YeleSowore will be another reason for me to join the #RevolutionNow. #FreeSowore

— Kaycee (@kayceepersin212) August 3, 2019
The arrest of Sowore by the Nigerian govt over #RevolutionNow is not just irrational but also undemocratic. It is a show of dictatorship. If the Nigerian govt likes, it should arrest hundreds of Sowores, nothing can deter, hinder or stop an idea whose time has come!#FreeSowore

— FESTUS OGUN (@mrfestusogun) August 3, 2019
The battle for the right of lawful assembly of citizens in any cause, conducted peacefully has been won legally, constitutionally, and even morally.#FreeSowore #DaysOfRage #RevolutionNow pic.twitter.com/C1rL3Yu1PD

— EiE Nigeria (@EiENigeria) August 3, 2019
We condemn Sowore's arrest and Buhari's stubborn and cruel antidemocratic credentials. We believe that the #RevolutionNow will outlive all forces of repression, particularly the Buhari presidency. #RevolutionNow #FreeSowore

— Adeniji Tomisin (@Iammhiztee) August 3, 2019
If news report of DSS picking up @YeleSowore is confirmed then those behind his arrest sure did not learn from the past, he just had you were he wants you to be. Now we won't know if #RevolutionNow would have really taken over Nigerian government on Monday. It's now #FreeSowore

— Kayode Ogundamisi (@ogundamisi) August 3, 2019
Dss just signed me in to b part of the protest. I live in ikere, come and carry me to!#FreeDadiyata #FreeSowore #RevolutionNow https://t.co/cZ9MECHvk7

— oluwasegun ajayi (@oluwasegunajay7) August 3, 2019