Shiites vs Police: Nigerians Mourn Precious Owolabi, Channels TV Reporter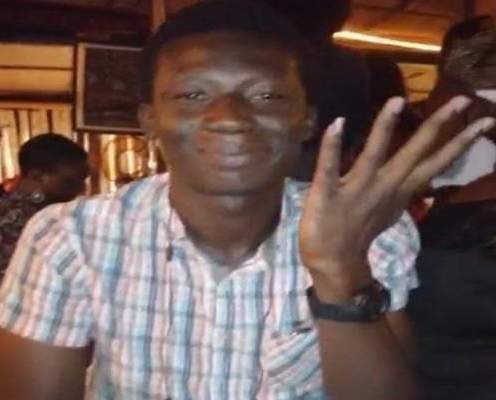 Nigerians have taken to the micro-blogging site, Twitter, to mourn Precious Owolabi, the Channels Television reporter who died after he was shot at the scene of the clash between members of the Islamic Movement in Nigeria (IMN), also known as Shi'ites, and the police.
Naija News had reported earlier that the death of the reporter was announced during the 10 pm news bulletin of the station on Monday, July 22.
This online news platform understands that late Owolabi was identified as a member of the National Youth Service Corps (NYSC).
A statement released by Channels TV said: "The management and staff of Channels Television are greatly saddened by the untimely and unfortunate death of such a promising journalist.
"They pray that God will grant his family the fortitude to bear the irreparable loss, and avail his soul eternal rest."
Moments after the news went viral Nigerians took to Twitter to mourn Precious Owolabi.
Naija News captured some of the reactions below…
Deepest condolences to @channelstv on the death of Precious Owolabi during the protest by Shi'ites today in Abuja. Journalists are always endangered species. People have no idea what we go through to get news for their consumption.. pic.twitter.com/TdbdeUzvV0

— JUSTDOIT9JA❁ #TeamMercy #BBNaija (@justdoit9ja) July 22, 2019
My condolences to the family of Precious Owolabi, the @channelstv reporter and @NaijaCorpers shot dead today during a Shiite-police clash in Abuja. President @MBuhari should act fast to "cool temper" all around. Nigeria is on the brink! My condolences too to DCP Umar's family.

— Kingsley Moghalu (@MoghaluKingsley) July 22, 2019
A sad day for the media. My heart goes out to the family, friends and colleagues of Precious Owolabi. We need justice on this land https://t.co/cm94P5hbnz

— Lolade Adewuyi (@Jololade) July 22, 2019
My condolences to precious owolabi's family, family of the late DCP and the family of the murdered shiites.
God please protect our family since the gov of Nigeria has become inept#NextLevel

— cadwig????? (@Dgreatponds) July 22, 2019
Rest In peace Precious Owolabi…i am gutted right now??
but those that sent u out there to cover such news, what were u guys thinking? A young chap on youth service who is still "unprofessional" and y'all put him in harms way all because of a STORY? Arrgghhhhhh?????

— Ebullient Emekah ? (@Megxo_official) July 22, 2019
Waka Waka to chase news
Poka Poka, bullets ran after him
He got the news
But casting it in the tomb…..

?

RIP Precious Owolabi pic.twitter.com/higuggMtgD

— Alfred Olufemi⏺️ (@iam_alfred1) July 22, 2019
Channel reporter:

Precious Owolabi, may your soul rest in peace. pic.twitter.com/C94RMwJHsM

— Jubril of Sudan till 2023 (@ijaola_ibrahim) July 22, 2019
And Precious Owolabi of @channelstv died from @MBuhari's stray bullet today, he was a Youth – #RIP.. ? ?

— Conscious1 (@IroegbuDickson) July 22, 2019
May the soul of Precious Owolabi rest in peace. May God console his family and comfort his friends. That could have been anyone, including any of our family members or friends who work around the 3 arms zone and environs in Abuja. Such a needless death. Resolve this madness now.

— Dr. Dípò Awójídé (@OgbeniDipo) July 22, 2019
BREAKING: @channelstv reporter shot during Shiites protest is dead.

Precious Owolabi a NYSC Youth Corp. ?

Why? All because of just one man called Buhari.

Sincerely Nigerians are getting this sense by force seriously.

— Ayemojuba ??? (@ayemojubar) July 22, 2019
It's a sad day. First it was DCP Umar and now Precious owolabi . For how long will the Shiites / FG face off continue. Living peacefully in this country seems to be very expensive right now. pic.twitter.com/75CzXkNjbr

— ISI (@simmeonii) July 22, 2019
May Precious Owolabi, (the young @channelstv journalist killed by a stray bullet during today's demonstration) soul REST IN PEACE!

— 约瑟芬 ??? ???????? (@aprilgains) July 22, 2019
Just in: We are saddened by the passing away of Precious Owolabi who died of wounds sustained in cross-fire during violent confrontation between the NIGERIA POLICE & Shiites in Abuja, Nigeria. He was a a Youth Corps Member(NYSC), posted to the station. pic.twitter.com/Z7gtfFFRuD

— suleiman idris (@TimesNiger) July 22, 2019
May the soul of Precious Owolabi, the Channels TV Youth Corper who was shot in today's #FreeZakzaky protest in Abuja, rest in perfect peace, amen.

— friarsomadina (@friarsomadina) July 22, 2019
Rest In Peace Precious Owolabi

Channels TV reporter, he was shot while reporting the Shiites-Police clash in Abuja pic.twitter.com/gUHP8hoZeK

— Oduntan Ayodeji (@OduntanAyodeji) July 23, 2019
Precious Owolabi the Youth Corper serving with channels TV who was shot has died. Another innocent young life cut short by Muhammadu Buhari. A man who thrives on the shedding of the blood of young Nigerians. We remember Bauchi 2011

Ijeoma Onyeator actually wept on live TV.

— Babasola Kuti (@RealSolaKuti) July 22, 2019
No one deserves to die the way Precious Owolabi died today.
1. Serving a country that has failed you as its citizen
2. A reckless mistake that could have been avoided if not for the presidents high handedness

Buhari killed Precious Owolabi#Shiites
Precious Owolabi
ChannelsTV

— THE DIPLOMAT (@Odoh_Dextiny) July 22, 2019
Deepest condolences to @channelstv on the demise of their Correspondent, Precious Owolabi…..it's sad, disheartening and heart-breaking. Many do not know what we pass through to get them news for their consumption. May her soul rest in peace……

— Yanjú Ùwálá™ (@samade327) July 22, 2019
SO SAD!!!!!!!!!!

Ijeoma Onyeator of Channels Television casts News in tears over the death of colleague, Precious Owolabi who was hit by stray bullets during the face,- off between the Nigerian Police and Shiite member protesting the detention of their leader El Zakzaky in Abuja pic.twitter.com/zkXmBLXGAo

— Eyitayo Ijaoribe (@tayoijaoribe) July 22, 2019