Borno Governor Zulum Meets Buratai To Eliminate Boko Haram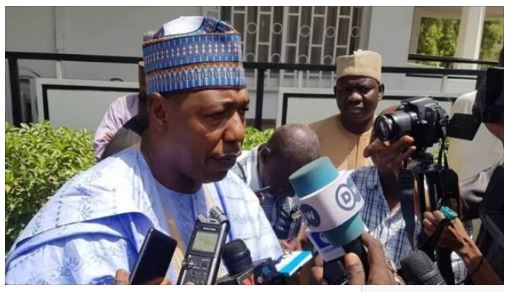 Borno state governor, Babagana Zulum, says his administration will do its best even if it involves spending its spend its last kobo to support the military.
Naija News reports that the decision of the state Governor is aimed at strengthening the civilian JTF and hunters; as part of the deliberate efforts to defeat the Boko Haram sect in the state.
Zulum made the comment when he received the chief of army staff, Tukur Buratai who visited him in Maiduguri, the state capital, on Monday, June 24.
He vowed that the state government would rise to the defence of the people against banditary.
"We cannot afford a situation whereby two persons (terrorists) come with motorcycle or vehicle, ransacking town and killing hundreds of people."
The governor said security is everybody's business and not only a military affair. He went ahead to commend the military, particularly the Nigerian Army for their efforts in dealing with insurgents, stressing that it is "very difficult to deal with an enemy you do not see".
"People do not understand; it very difficult. Considering the land mass of Borno state, about 76,000 kilometers; it is not easy.''
While expressing concern over the state of unemployment in the state, the Governor said; "Right now, over 80 per cent of our population (Borno), including the youth and able bodied men, are unemployed," he said.
"The situation is catastrophic, and unless we address the root causes of these problems, I think we cannot make any meaningful progress."
Earlier, Buratai had congratulated the governor on his election, saying the military was working out solutions to insecurity in the state and the north-east in general.