Next Level: Falana Gives Strong Warning To Buhari Over Appointments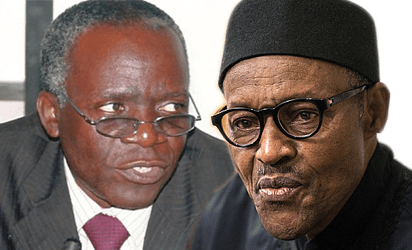 Falana Tackles Buhari On Next Level Appointments
Human rights lawyer and activist, Femi Falana (SAN) has slammed President Muhammadu Buhari for allowing his aides to remain in office despite the expiration of their tenure.
Falana is of the opinion that the action of such aides taken on behalf of the presidency could be declared illegal if challenged in court.
The legal luminary further stated that the right thing to do would have been for the President to re-appoint such aides if he wishes to continue working with them.
Naija News recalls it took about six months for President Buhari to constitute his cabinet during his first term in office but expectations are high that it won't take such a long time for him to do so this time around.
Buhari was inaugurated on May 29, 2019 for a second term in office as Nigeria's democratically elected president and as at the time of filing this report, he is yet to constitute his cabinet or make any appointment.
Falana said on Thursday; "Like ministers, special advisers and other political appointees were appointed by President Buhari for a four-year term of office in 2015. Consequently, the tenure of all the political appointees expired on May 29, 2019 by effluxion of time. Hence, the federal cabinet was dissolved while all ministers were relieved of their appointments at the end of the four-year tenure.
"In the same vein, all other political appointees ought to have been asked to relinquish their positions. Since President has not sacked them or renewed their appointments there has arisen the urgent need to avoid a constitutional crisis whereby the actions of such persons who have continued to occupy offices illegally may be questioned or declared illegal by a court of law."