May 29: Buhari Fails To Give Inauguration Speech During Swearing-In Ceremony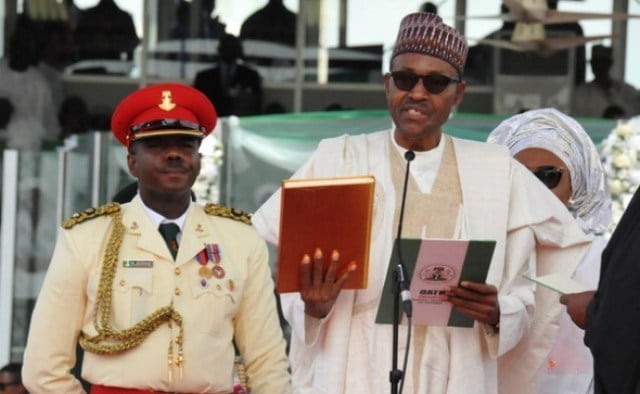 Buhari Skips Inauguration Speech
President Muhammadu Buhari on Wednesday, May 29 took the oath of office signalling the commencement of his tenure as Nigeria's President for a second term in office.
Naija News reports Buhari took the oath of allegiance, few minutes after Vice President Yemi Osinbajo took his at about 10; 30am at the Eagles Square in Abuja, Nigeria's capital.
The oath of office was presided over by the Chief Justice of Nigeria (CJN), Ibrahim Tanko Mohammed.
The President in a surprise move, however, did not deliver any speech after taking his oath.
Such speech has become a tradition since Nigeria returned to democratic rule in 1999.
The President had, however, a few hours before his second term inauguration, taken part in a special interview session where he spoke on the challenges of his first term in office and what Nigerians should expect during his second term as President.
Meanwhile, Naija News understands Buhari took the oath before Nigerians in the company of his wife, Aisha Buhari, wife of the Vice President, Dolapo Osinbajo and other prominent Nigerians, diplomats, top government officials and other politicians at the ceremony.