France Football Legend, Michel Platini, Arrested And Questioned Over Corruption Allegations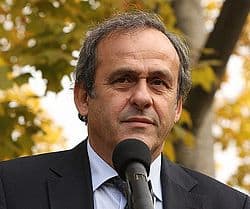 Former UEFA President Michel Platini has been arrested earlier today in connection with a probe into the awarding of the 2022 World Cup to Qatar.
The French football legend elected to lead European football's governing body in 2007 was taken into custody by French anti-corruption police investigating the awarding of the 2022 World Cup to the gas-rich Gulf state.
Meanwhile, the arrest of Platini represents the first substantial public move in an investigation into the Qatar decision opened two years ago by France's Parquet National Financier, which is responsible for law enforcement against serious financial crime.
Platini has acknowledged publicly that in November 2010, just a month before the Fifa vote on the 2018 and 2022 World Cup hosts, he had lunch at the Élysée Palace with Sarkozy and Tamim Al-Thani, now the emir of Qatar.