Nigerians React To President Muhammadu Buhari's Democracy Day Speech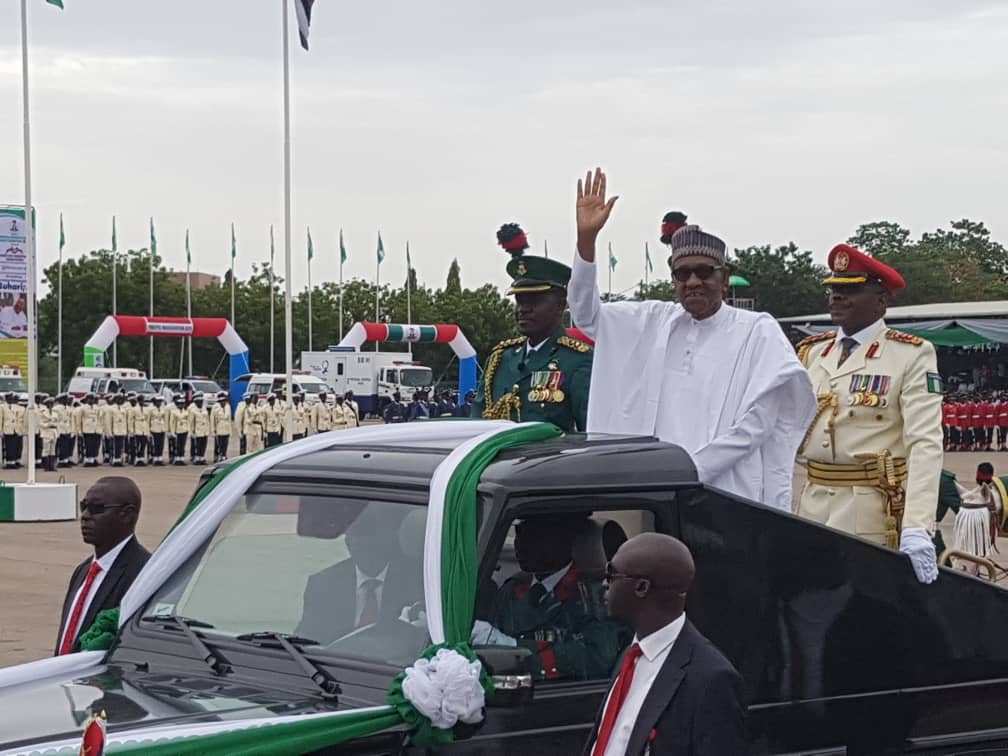 The much-anticipated 2019 democracy day speech has been delivered by President Muhammadu Buhari. 
Naija News recalls that President Muhammadu Buhari failed to deliver a speech on May 29th after he was sworn in for a second term in office.
The President touched on electricity, security, infrastructure, job, and many other issues that affect Nigerians.
The President in his speech also honoured the late winner of the June 12, 1993, presidential election, Chief MKO Abiola, naming the National Stadium in Abuja after him.
"This administration will consolidate on the successes of the last four years. In the last four years, we have made tremendous progress in addressing challenges in the country."
Meanwhile, here are the reactions of Nigerians as follows:
They say JUNE 12 is our present DEMOCRACY day. To me it's just a naming ceremony. True DEMOCRACY should be True FEDERALISM. I expect more True FREEDOM of the PRESS and SPEECH because that is the True identity of a genuine DEMOCRACY
Congrats Nigerians#NaijaGodwins pic.twitter.com/VFkrdAK7o3

— omenka Int'l (@omenka_l) June 12, 2019
"Ladies and gentlemen, my optimism for a better Nigeria is unshakable." – President @MBuhari. #DemocracyDay pic.twitter.com/nQvylV5QXE

— Bashir Ahmad (@BashirAhmaad) June 12, 2019
We all pray for a better Nigeria, and a Nigeria we will be proud of.? we wish you all the best these 4 years.

— DeborahChuks (@deborah_chuks) June 12, 2019
@BashirAhmaad H.E rather said: "Ladies and gentlemen, despite the challenges over the last four years, my optimism about Nigeria's future is unshakable." This is the correct quote. Long live the Federal Republic of Nigeria.

— Muhammad Abdullahi (@Muhdabdullahi01) June 12, 2019
@BashirAhmaad H.E rather said: "Ladies and gentlemen, despite the challenges over the last four years, my optimism about Nigeria's future is unshakable." This is the correct quote. Long live the Federal Republic of Nigeria.

— Muhammad Abdullahi (@Muhdabdullahi01) June 12, 2019
Nice one baba ..
Try and deliver this time ohh , no more room for excuses again oh.
I didn't vote for you and I'll never vote for you but since INEC said you won,I have no choice than to wish you will with regards to upholding our constitution and providing basic amenities.
??

— ? Obong Ekpe ? (@Ody_johnson) June 12, 2019
But I thought @OfficialPDPNig has never done anything in the 16 years of her reigns, how come the Stadium built by a PDP government is now worthy of being christened after the Hero of Democracy by @APCUKingdom @APCNigeria . Just thinking out loud….

— Sam (@Samfonii) June 12, 2019
Good job from @MBuhari I think the president should've nominates his minsters during his speech, by so doing telling the masses @MBuhari want to hit the found running.

— Evii (@Evii2cute) June 12, 2019
As for me what IBB did that time was right. How can you pronounce urself as president or winner before the commission that has the power and moreover the west has their interest in abiole

— stanley okere (@Enyi28) June 12, 2019
Wouldn't it be nice if you name something you built to him…afterall you decided to recognize the date…a stadium dt is filled with reptiles…????

— VOXPOP (@ACANAYO1) June 12, 2019
What?? What is wrong with this Buhari sef?? Is that not what was kept so that it can be named after Obasanjo?? Make him no name everything finish oh ???

— John Christian Alex (@jchristianalex) June 12, 2019
The analysis of the June 12, 2019 Inaugural Democracy Day Presidential Speech should start coming in please. The only thing I've heard so far is the "we are going to better the lives of our people." Me I want a better life. How did he say he would achieve that? #democracyday

— Gbemileke Lawal (@gbemiileke) June 12, 2019
The much awaited June 12 Democracy day speech that we had to give up May 29th speech for, had better be nothing short of excellent.
We wait #DemocracyDay

— G-mach (@MrGquest) June 12, 2019
Source: Naija News