#FreeNairaMarley Trends On Twitter As Naira Marley Knows Fate Today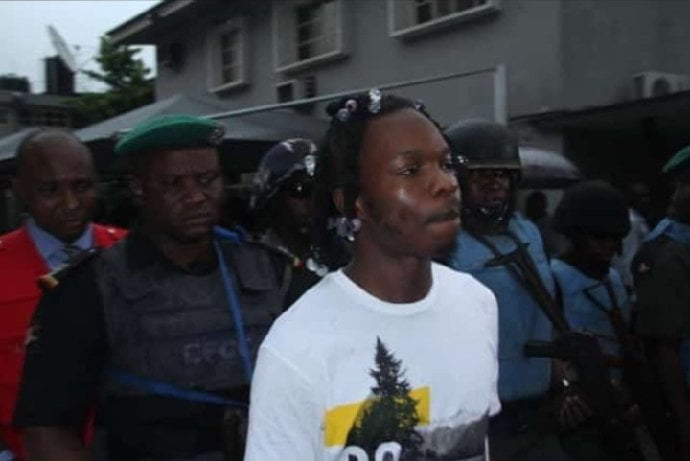 The hashtag "Free Naira Marley" is currently trending on the Nigerian Twitter trend, in what appears to be the anticipation of Naira Marley's freedom.
Naija News reports that the development is coming a few hours to the court appearance of the musician who is currently facing criminal charges leveled against him by the Economic and Financial Crimes Commission (EFCC).
This online news platform had reported earlier that the anti-graft agency arraigned the singer before a Federal High Court sitting in Ikoyi, Lagos, Nigeria's commercial city earlier today.
EFCC arraigned Naira Marley before the court on 11 count charges bordering on cybercrime, which he pleaded not guilty to.
One of the counts reads: "That you, Azeez Adeshina Fashola, aka Naira Marley, and Yad Isril (still at large), on or about the 26th day of November, 2018, within the jurisdiction of this honourable court, conspired amongst yourself to use Access card no : 5264711020433662 issued to persons other than you in a bid to obtain gain and you thereby committed an offence contrary to Section 27(1) (b) of the Cybercrime Prohibition, Prevention etc Act 2015 and punishable under Section 33(2) of the same Act."
The defendant pleaded not guilty to the charges preferred against him by the anti-graft agency.
In view of his pleas, the prosecution counsel, Rotimi Oyedepo, asked the court for a trial date.
Oyedepo also prayed for accelerated hearing of the case and urged the court to remand the defendant in prison custody.
Counsel to the defendant, Taiwo Oluwa Ore- Agba, asked the court for a date to hear the bail application on behalf of his client.
Consequently, Justice Oweibo adjourned the case to May 30, 2019, and ordered the defendant to be remanded in prison custody pending the hearing of the bail application
Ahead of his court appearance today, some Nigerians have taken to the micro-blogging site, Twitter to demand for Naira Marley's freedom with #FreeNairaMarley.
Naija News captured some of the reactions below…
https://twitter.com/CaliforniaPato/status/1133987578548555776
Yall Can't help Naira Marley behind Keyboards
Let's all his Supporters Gather Bail for him na …..No amount is too small #FreeNairaMarley pic.twitter.com/DZ0OGCGUtR

— Hbib_mendas_22 (@hbib_mendas_22) May 30, 2019
The Hypocrites Shouting #FreeNairaMarley didn't speak for countless of innocent people arrested by EFCC on the Basis of Cybercrime.
Nigerian Law should be suspended now because it is Naira Marley.
I Pray He Rots in Jail if Found Guilty.
May Justice prevail#YahooYahooNoBeHustle pic.twitter.com/WIBfnCy1o4

— Tosin (@tosinancial) May 30, 2019
Marlians!!! #30th #freenairamarley #NairaMarley
Twitter don suspend @nairamarley account……….
May you see favour today frm court!!!#freenairamarley #freenairamarley pic.twitter.com/EIVOqJYH3Z

— peteru || omo iya tisa 🇳🇬™ (@jemberun) May 30, 2019
Today is the day. Let pray for Marley! #FreeNairaMarley

— Dmx ✨️ (@iam_dmx1) May 30, 2019
If I follow you and I you tweet to support #FreeNairaMarley, I won't only unfollow you, I'll block you.

What nonsense? Nigeria can NEVER be better in this generation, take or leave it.

— Jason (@Jason_Cryptoz) May 30, 2019
He's Goin To Court Today Again .. Thursday 30th May .. Lets Say A Prayer For Him 🙏🏻🙏🏻 @nairamarley May The Bail Conditions Favour You And Set You FREE By God Grace 🙏🏻🙏🏻 Insha Allah 🙏🏻🙏🏻 #FreeNairaMarley We Begging 🙌🏽🙌🏽🙏🏻🙏🏻…#Currentsituation🇬🇧

— Arabi Samson O (@OlamisamO) May 30, 2019
What exactly will u gain with this tweet now? Likes and RT? I pity for your life. Oloshi!!!! #freenairamarley

— Reflexes (@SN2Ds) May 30, 2019
https://twitter.com/only1bryan_/status/1133998876799774720
https://twitter.com/TOHNEE3/status/1133997148981342208
https://twitter.com/pepperhyno/status/1133982831296819200
Stop dreaming in California and come to reality in Nigeria #freenairamarley

— GROOVY DJ with the savage ✌🏿 (@djtaimak) May 30, 2019
So later today,Naira Marley will be granted bail,he will go home,then just watch how the court will be adjourning his case till they throw it out because of lack merit,then some people will say he was innocent afterall.But we know what happened.#justice #freenairamarley

— Mr Sam (@SamsonOke10) May 30, 2019
https://twitter.com/_Vastmafia/status/1133991017429049344
"let him who is without sin be the first to cast the stone "
"Judge not so you be not judged "
…these are the two most misunderstood quotes that also being that they're from religious books , mostly used to quiet those who stand up to say the truth #freenairamarley

— Dat_Asaba_Boy (@AsabaDat) May 30, 2019