Buhari May Dissolve Cabinet At FEC Final Session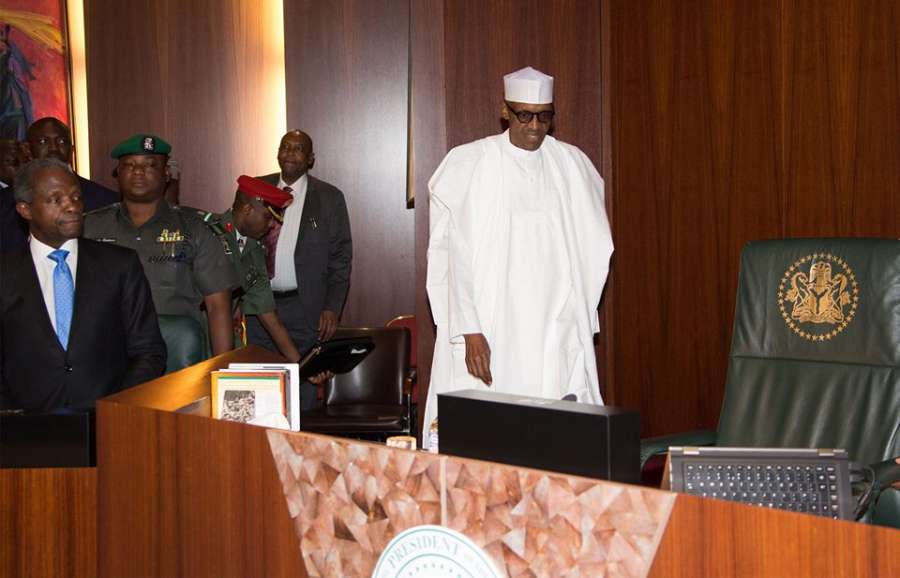 President Muhammadu Buhari may dissolve his cabinet ahead of his inauguration for the second term on May 29, just as the last meeting of the Federal Executive Council (FEC) will hold on Monday.
The valedictory session of the federal cabinet has been slated for Wednesday, May 22, Daily Independent reports.
This was disclosed at the end of the Thursday extraordinary FEC meeting presided over by Vice President Yemi Osinbajo in the absence of the President.
Speaking to State House correspondents at the end of the meeting, the Minister of State for Aviation, Hadi Sirika, accompanied by his colleague Ministers of Information and Culture, Lai Mohammed and Federal Capital Territory (FCT), Muhammed Bello, said that the council approved N1.8 billion for the reconstruction and rehabilitation of the buildings of the Railway village in Agbo, Delta State.
The Aviation minister also revealed that the sum of N743 million was approved for the procurement of security and safety deficiencies as well as incidence laboratory for Nigeria Civil Aviation Authority (NCAA).
He explained that the total sum for the procurement included taxes with a completion period of 12 months.
Sirika said that the contract for the procurement of pavement marking machines was also approved by the federal executive council at the cost of N391.8 million.
"This is a visual aid for pilots for safe operations around our airports," he said.
According to the minister, another approval granted by the council is the sum of €1.1 million, for the purchase of a total radar coverage track on system reconditioning.
He said: "This contract went to the manufacturer of the equipment for 1,187,960,000 Euros, equivalent to N414,543,760.23 excluding taxes and it is for seven months completion."
Also speaking, the Minister of the Federal Capital Territory (FCT) said that the council approved six contracts worth N2.6 billion for the FCT.
"The FCT got approval for the award of contract for the construction and equipping of materials testing laboratory in Abuja and that contract is in the sum of N616, 278, 844.19 with a completion period of five months.
"That laboratory already is under construction, so basically it is just to equip the laboratory and is going to test all the items that go into the construction of roads and buildings," he said.