Nigerians React As Fani-Kayode Says Buhari Is 'Greater' Than God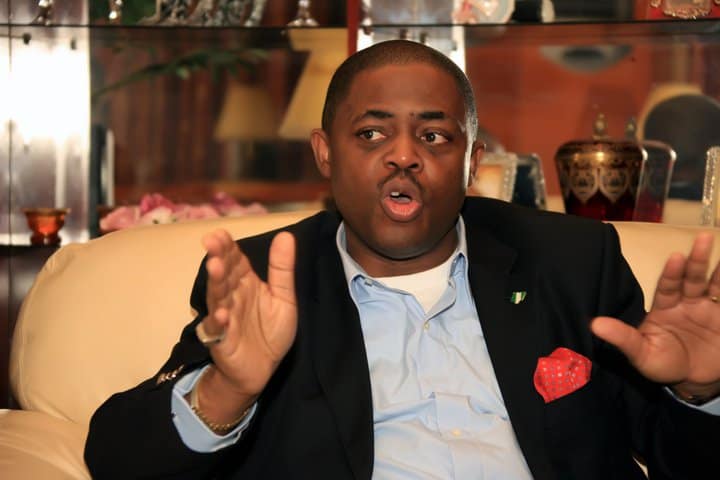 A former Minister of Aviation Femi Fani-Kayode has claimed that President Muhammadu Buhari supporters see him (Buhari) as someone who is greater than God.
The chieftain of the Peoples Democratic Party (PDP) made this known in a post on Twitter on Wednesday morning.
He also slammed Nigerians for refusing to speak truth to power and failing to confront the monstrous beast that has held them in captivity.
According to Fani-Kayode: "Nigeria is not a nation: she is an occupied territory of slaves, vassals and quislings that are not prepared to confront the monstrous beast that has held them captive and in bondage for the last 4 years."Most Nigerians are so cowardly that they dare not even speak truth to power."If Buhari asked his supporters to put their faces under his smelly old arse and literally eat his shit, 99% of them would gladly do so.
The tweets as however generated several reactions from several Nigerians. Here are some of  the reactions:
The useless evil featureless unworkable gigantic zoo called Nigeria is a failed state and has died, we're waiting for it burial ceremony

— Chukwudi Anavo (@AnavoChukwudi) May 15, 2019
Nigerians are rather afraid of the monstrous occupants of the villa who don't have value for life but kill and maim at will.

— Vica Chiananti (@chiananti) May 15, 2019
Sir, I beg to disagree. The fear is more of "Who and What are the alternatives? PDP & ATIKU?
They aren't worth the risk or are Nigerians willing to take another risk with them.
More of lack of better alternative

— Ade Ayanfe (@AdeAyanfe) May 15, 2019
What else do u want us to do if we act they will bring Army forces to shut us up the rich people like you will say we are militants ? so pls sir tell us how to go about it

— Jessica Reuben Bruno (@reuben_jessica) May 15, 2019
Thank God some people are realising this.?? @realFFK
Ni-Ger = Niggar
Ni-Geria = Land of Slaves
Ancestors of Nigeria: Herbert Macaulay, Lord Lugard & Flora Shaw.
Christianity + Islam + British + Arab = Nigeria.
You can't build a storey building on a bungalow foundation.#Think

— Play Music Ent. (@Play_Muziq) May 15, 2019
You are to blame. Your lineage, you have had opportunity to serve this Nigeria at a leadership hierarchy and make it a Nation but failed to do so. You owes apologies.

— IdeEkpe1 (@IdeEkpe1) May 15, 2019
Rotimi Amaechi said 'Nigerian s are cowards'.
Could it be true?

— Izu (@Izu81903650) May 15, 2019
In Colosian 2:18, the Holy spirit warns us to beware of those who will try to intimidate us against doing what God has laid on our hearts to do in furtherance of the gospel. Using accusations and eye-service.

— Nengi Tariah (@nengi147) May 15, 2019
Nigeria shall be liberated, and all the evil blood thirsty powers that seem to hold it down put to flight and permanently destroyed. If it happened for the people of Israel in the land of Egypt, it will happen in Nigeria. Amen?.

— Sop Godfrey (@sopgodfrey) May 15, 2019
Read More News. Download Naija News App. Send us enquiries and press releases.