Fani-Kayode Speaks On Military Planning To Overthrow Buhari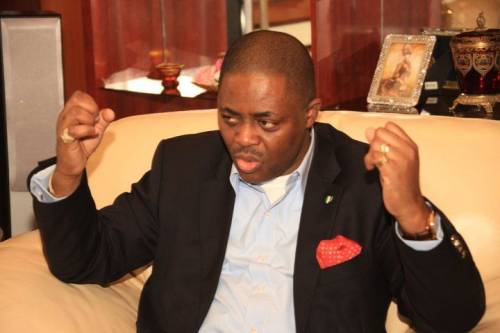 Former Minister of Aviation Femi Fani-Kayode has reacted to report that the Nigeria Military was planning to overthrow President Muhammadu Buhari.
The Armed Forces of Nigeria had in a statement on Tuesday denied abhorring plans to oust the president.
In a statement issued by Navy Capt. Muhammed Wabi, Deputy Director of Defence Information, the Defence Headquarters accused a group, "Nigerian Continuity and Progress'' as being behind the document.
Wabi alleged that the document called for the setting up of an "interim government'' in place of the elected government.
"The Armed Forces of Nigeria wishes to dissociate itself from the rascality and intentions as espoused in a document being circulated by a faceless group named Nigerian Continuity and Progress calling for support of a revolution to oust the current democratically elected government and in its place establish an illegitimate interim government.
"The AFN outrightly condemns the undemocratic and demonic actions of the author of the document.
"Accordingly, members of the public are enjoined to discountenance the content of the documents being circulated by NCP and equally condemned in totality, the call to derail our hard-earned democracy,'' the statement said.
Reacting in a post on his Twitter page on Wednesday morning, Fani-Kayode called on Nigerians not to trust the military.
He wrote: "The statement by the Army that they have no plans to topple Buhari reminds me of the assurance of loyalty given to Pres. Shehu Shagari by the Army in 1983 after rumours that they were planning a coup.
"A few weeks later they removed Shagari and replaced him with one Gen. Buhari.
"Trust in God and not in man. Let us hope and pray that there is no coup in Nigeria.
"Military intervention is not the solution to our problems. What we need is to establish real democracy and a govt. that respects the people and abides by the rule of law.
"We do not have that today."
Download NAIJA NEWS app: