Biafra: IPOB Gives Update On Preparation For Remembrance Day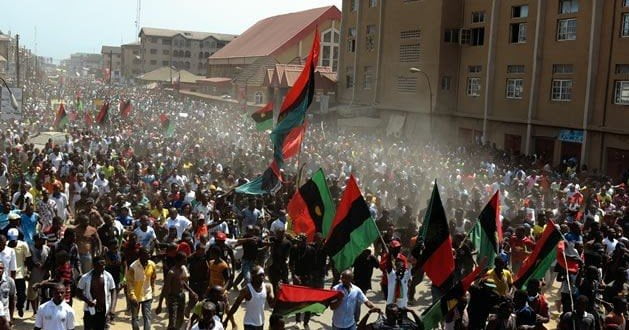 The Indigenous People of Biafra (IPOB) has restated its resolve to lockdown 'Biafra land' on May 30 during the remembrance of slain "Biafra" citizens.
In a statement issued by its media and publicity secretary, Emma Powerful on Monday, the group said its chapters worldwide have resolved to prove on May 30th both in Biafraland and beyond that IPOB "remains the preeminent freedom fighting outfit anywhere on this earth at this present moment".
It said "Biafrans both home and abroad must honour and remember our heroes and heroines that died to stop the total Islamisation of the sacred land of Biafra and perpetual enslavement of the children of God".
Emma Power boasted that all IPOB family units outside Biafraland, in over 88 countries and territories around the world, are expected to take part in street demonstrations, rallies, lectures and prayers to ensure the remembrance of their fallen heroes and heroines on 30th of May 2019 will go down in history as one of the greatest events of our time.
The group spokesperson commended IPOB families in the United Kingdom, Europe, Asia, Middle East, USA and many others across the world that have secured marching permits from their relevant authorities for the event.
According to him, Angola, Mozambique, Congo DRC, Namibia, Ghana and Tanzania also have perfected their own arrangements to honour Biafran heroes and heroines that day.
He noted that IPOB family members in the UK have secured their venue at Trafalgar Square London for a rally, saying the group is praised for holding peaceful protests.
Power warned those it described as "criminally minded individuals, DSS informants, traitors and Biafra-for-hire groups that hiding under the banner of Biafra agitation to serve Miyetti Allah agenda through Al Mustapha will bringing shame and ridicule on themselves."