Many Feared Injured As Gunmen Attack Betting Centre In Abia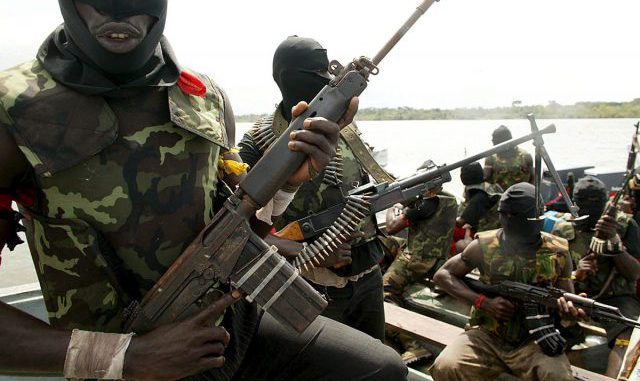 A betting center located in Aba South Local Government Area of Abia State has been reportedly attacked and robbed by unknown gunmen, operating with commercial tricycles.
A staff of the betting house located at  No 18 Asa by St. Michaels Road was said to have sustained serious injury and is battling for his life in an undisclosed hospital.
Naija News notes that this is coming less than five days after the Nigerian Army banned the use of commercial Motorcycle in Kaduna, Kano, Kebbi, Katsina, Sokoto, Zamfara and Niger states, citing their vulnerability for Criminal use as the major reason.
Unconfirmed report has it that many others who had come to bet in the center have been injured as well.
It was learned that the gunmen had dispossessed staffs of an undisclosed huge amount of cash.
While details of what transpired are still sketchy, The Nation reports that one of the gunmen shot at the betting house staff after the staff had grabbed him while other members of the gang had left the shop.
According to reports, the betting house staff had grabbed a member of the gang he suspected didn't have any gun on him and raised alarm to attract help from passersby.
An eyewitness, who corroborated the robbery report, told our reporter that the robbers shot one of the workers in the Bet House in the leg after he held one of them from escaping but couldn't get help from passersby who ran for their dear lives.
According to the eyewitness, the armed robbers numbering four came on a tricycle and shot sporadically to scare people without any response from the army whose checkpoint is not far behind.
It was also gathered that the robbers seized the opportunity to attack most of the phone shops at Saint Michael's Road and made away with huge number of phones using polyethylene bags.
Another eyewitness who does not want his name mentioned said, "It is high time our government looked into what is really happening in this Aba.
"What is the work of these security agents who mount checkpoints everywhere? Just look at their checkpoint at Park Road and tell me if an ordinary whistle from here will not be heard at that checkpoint?
"These armed robbers attacked and shot into the severally without anyone response from them. All they know is to use motorcycle to go into the city to settle relationship matters and business dispute leaving the city unsecured."
Another eyewitness who also spoke anonymously described the incident as unfortunate saying it happened in a place that should ordinarily be considered secured.
His words: "My anger was that the soldiers didn't even react. Again, the Aba Area Command and the Central Police Station Aba is not far from here as well.
"They claim they're carrying out Operation Puff Adder which is to wipe out criminal activities and yet armed robbers are terrorizing us here.
"I saw a young man in the pool of his blood after that robbery. He was shot after grabbing one of the robbers, but couldn't get help from anybody until the colleagues of the robber came to rescue him by shooting the young man on the leg.
"It was later after the robbery that he was taken to the police clinic at Aba Area Command because I saw their vehicle come here later."
Another eyewitness who simply gave his name as John urged the government of Abia State to think of re-establishing a vigilante group similar to what the city had around 1999.
"This was exactly what he was experiencing from the early and late 90s before the state government took a bold step to establish the Abia State Vigilante Group AKA Bakassi which helped to solve the problem.
"From what I'm seeing now, nobody in this Aba trust these military men here in Aba because, they are no longer interested in security jobs," he said.
He, however, pleaded with the Abia State governor, Dr. Okezie Ikpeazu and the Abia State Commissioner of Police, Eneh Okon to make efforts to curb the trend of tricycle robbery in broad daylight before it becomes uncontrollable.
It was learned that the suspected group also robbed an electronic shop located along Aba-Owerri road.
But security personnel who pleaded not to be mentioned because he wasn't allowed to talk to the press said that they weren't informed of the incidents, but stated that they were already tracking the gang suspected to be behind some of the robbery operations in Aba in recent times.
The security personnel who said that they cannot function in isolation appealed to members of the public to always alert the police or any of the sister security agencies of any activity of hoodlums in their areas.