TB Joshua, Pastor Chris Are My 'Spiritual Children' Says Ghanaian Bishop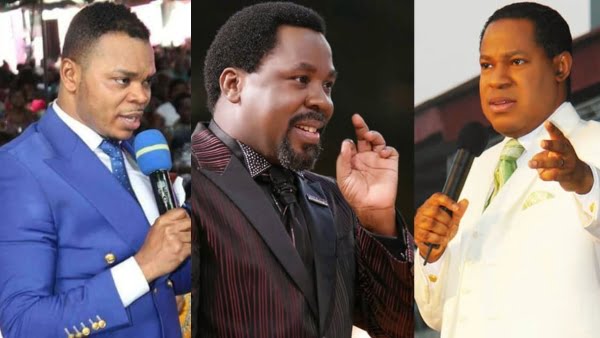 The self-acclaimed 'Angel' on earth and general overseer of International Godsway church, Bishop Daniel Obinim, says popular pastors including Chris Oyakhilome, Benny Hinn, Alph Lukau and Prophet TB Joshua are his children "in terms of the Spiritual aspect."
Naija News reports that Bishop Obinim made this comment at his church in Ghana, West Africa recently.
The Ghanaian Pastor boldly stated that he respects the pastors in question but were nowhere closed to him when it comes to spiritual aspect.
His words: "I respect Pastor Chris, TB Joshua, Benny Hinn, and the other prophets but in terms of the Spiritual aspect, they are my children," he said.
"They are my children. Go and ask them, they know me spiritually. Talking about spiritual ways, they know me.
"Benny Hinn is a healer, he can heal you; Benny Hinn is a preacher, he can preach, and deliver you but in terms of spiritual ways, he's nowhere close to me," Bishop Obinim stated.
Speaking further, the Gahanaian Bishop  said when he places a curse on someone, no one can lift it.
Bishop Obinim said TB Joshua or Benny Hinn cannot reverse a curse he has placed because they are nothing compared to him.
The self-acclaimed 'Angel' on earth  said  he was capable of doing anything including orchestrating a car accident that can terminate the life of his enemy.
In April, Bishop Obinim said he has performed more miracles than Jesus Christ since he started his ministry.
According to him, the only person who comes close to his achievements in the miracle business is Jesus Christ but even with him, he (Obinim) has done more miracles than him.
Bishop Obinim said only Jesus was able to turn himself into another person in the bible to do a miracle for someone. Even with that, Jesus did it 3 times but he has done that over a thousand times.
Speaking at his church, Bishop Obinim had said: "Jesus said 'the Miracles am performing, the wonders and the signs; Those who believe in me, you can perform more than that'. Jesus was making reference to this that he didn't have enough time so he curtailed his time."
"He worked for about 3 and a half years when he left but those of us now we have more time. I Angel Obinim, I have worked for so many years more than that of my father and the miracles, the angelic performances, the wonders and signs that I have performed; they are countless because I have enough time, " he had stated.