Nigerian Air Force 2019 Recruitment: Full List Of Shortlisted Candidates For Kebbi State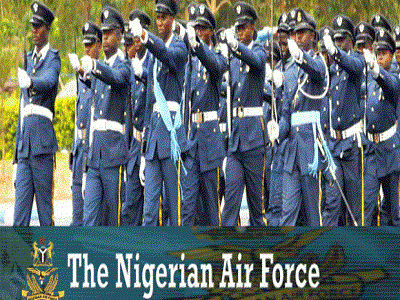 The Nigerian Air Force (NAF) has released a list of candidates shortlisted for 2018/2019 recruitment interview for Kebbi state.
Naija News reports that the successful candidates have been invited to attend the Final Selection Interview at the Nigerian Air Force Base, Kawo – Kaduna, northern Nigeria.
The 129-page list obtained by Naija News, also shows the screening state, centre identity, seat number and centre name for all the shortlisted candidates.
The force in a statement on its website noted that candidates are to report in Batches with the following:
Originals and Photocopies of their Credentials.
2 White vests.
2 Blue PT Shorts.
One Pair of Canvas Shoes.
4 Passport Photographs.
The list shows that Kebbi candidates are on Batch C and are expected to report on Sunday, 23-29 June 2019 for their interview.
Below is the list of successful candidates released by the Force…
BATCH C TO REPORT ON SUNDAY 23 – 29 JUNE 2019
KEBBI STATE
1
NAF2019/186405
IBRAHIM HABIBU
M
2
NAF2019/017596
SHAMSU IBRAHIM
M
3
NAF2019/185857
AHMED BESSE BELLO
M
4
NAF2019/008715
AMADU ABUBAKAR
M
5
NAF2019/024643
IBRAHIM BAWA
M
6
NAF2019/120722
A ALIYU KAOJE FARUK
M
7
NAF2019/081736
SHAMSU M HASSAN
M
8
NAF2019/062528
LAWALI GARBA
M
9
NAF2019/183164
LUKA D JOHN
M
10
NAF2019/118889
MIKA GONA MANU
M
11
NAF2019/013176
AMINU MUHAMMED
M
12
NAF2019/062433
BASHIR OTHMAN ABDULRAZAK
M
13
NAF2019/089902
ISMAIL ABDULLAHI
M
14
NAF2019/092460
ISYAKA IBRAHIM
M
15
NAF2019/014141
HAMZA SALEH
M
16
NAF2019/033200
ALIYU K SHA'AMAN
M
17
NAF2019/058335
RUFA'I GABI ABUBAKAR
M
18
NAF2019/117149
ATTAHIRU MOHAMMAD
M
19
NAF2019/004253
BILAL YAKUBU
M
20
NAF2019/183765
BELLO MUSA
M
21
NAF2019/031305
ILIYA GOMI YUSUF
M
22
NAF2019/043108
MANSUR A MUSTAPHA
M
23
NAF2019/024078
ABDULLAHI SAMAILA
M
24
NAF2019/127278
ABDULLAHI HALIRU
M
25
NAF2019/122402
IMRANA HASSAN
M
26
NAF2019/203197
USMAN ISHAQ
M
27
NAF2019/089411
MUSA ADAMU
M
28
NAF2019/120365
AMINU DANBABA
M
29
NAF2019/061637
NURADEEN MUSA
M
30
NAF2019/016992
MUBARAK UMAR
M
31
NAF2019/179324
BALA YAKUBU
M
32
NAF2019/158785
BENJAMIN SAMUEL
M
33
NAF2019/129329
SHAMSUDEEN MUHAMMAD
M
| | | | | |
| --- | --- | --- | --- | --- |
| (a) | (b) | (c) | (d) | (e) |
| 34 | NAF2019/142831 | ANDREW ISHAYA | M | |
| 35 | NAF2019/082628 | UMAR DANGA | M | |
| 36 | NAF2019/092687 | SAMAILA MAIWA | M | |
| 37 | NAF2019/021878 | JOEL JAMES ZAMANI | M | |
| 38 | NAF2019/106874 | JAMES SANDA | M | |
| 39 | NAF2019/004713 | BULUS DANLADI | M | |
| 40 | NAF2019/065276 | HAMZA AHMED | M | |
| 41 | NAF2019/144240 | ALMUSTAPHA DANGWANI IBRAHIM | M | |
| 42 | NAF2019/194782 | ABDULRAHMAN ANGO ABDULLAHI | M | |
| 43 | NAF2019/009641 | USMAN INUWA IBRAHIM | M | |
| 44 | NAF2019/001634 | USMAN DANJUMMA | M | |
| 45 | NAF2019/166713 | HUDU ABUBAKAR | M | |
| 46 | NAF2019/070608 | SADIQ ABUBAKAR | M | |
| 47 | NAF2019/030546 | ZAKARIYA HARUNA | M | |
| 48 | NAF2019/202884 | JONATHAN DUDU | M | |
| 49 | NAF2019/045440 | BASHIR DAUDA | M | |
| 50 | NAF2019/036780 | BELLO HARUNA ALIYU | M | |
| 51 | NAF2019/038122 | JAMILU MOHAMMED GARBA | M | |
| 52 | NAF2019/038166 | SANI YELDU ISAH | M | |
| 53 | NAF2019/117018 | MUHAMMAD HAMIS UMAR | M | |
| 54 | NAF2019/092298 | NUHU MUHAMMAD | M | |
| 55 | NAF2019/062586 | UBAIDULLAHI MUSA MUHAMMAD | M | |
| 56 | NAF2019/068828 | YUSUF GUDALE GARBA | M | |
| 57 | NAF2019/168844 | HABIBU MUSA | M | |
| 58 | NAF2019/090024 | ABUBAKAR LOLO MUHAMMAD | M | |
| 59 | NAF2019/014737 | ABDULKADIR MUKHTAR | M | |
| 60 | NAF2019/058560 | MUSA MOHAMMED | M | |
| 61 | NAF2019/202942 | IBRAHIM BABA SAAD | M | |
| 62 | NAF2019/203971 | MUBARAK MUHAMMAD | M | |
| 63 | NAF2019/202951 | IDRIS ALHASSAN | M | |
| 64 | NAF2019/074527 | ALMUSTAPHA ABUBAKAR | M | |
| 65 | NAF2019/048944 | SALEEM SHUAIBU | M | |
| 66 | NAF2019/192704 | INNOCENT EMMANUEL | M | |
| 67 | NAF2019/193328 | GODIYA KUKUM LUKA | F | |
| 68 | NAF2019/162197 | UMAR M UMAR | M | |
| 69 | NAF2019/011707 | MUHAMMED HASSAN | M | |
| 70 | NAF2019/142523 | AMINU DANLADI JAFAR | M | |
| 71 | NAF2019/075911 | ABBAS YUNUSA YAHAYA | M | |
| | | | | |
| --- | --- | --- | --- | --- |
| (a) | (b) | (c) | (d) | (e) |
| 72 | NAF2019/060105 | UMAR FARUKU | M | |
| 73 | NAF2019/199502 | ILIYASU ADAMU | M | |
| 74 | NAF2019/183982 | MUHAMMED SADIQ ABUBAKAR | M | |
| 75 | NAF2019/035397 | AMINU YAHAYA | M | |
| 76 | NAF2019/026290 | HALIDU KAWU ABUBAKAR | M | |
| 77 | NAF2019/128913 | UMAR ABDULLAHI | M | |
| 78 | NAF2019/178857 | DAHIRU ALHASSAN | M | |
| 79 | NAF2019/046304 | NASIRU LIBATA IDRIS | M | |
| 80 | NAF2019/146010 | ABUBAKAR ISAH | M | |
| 81 | NAF2019/168948 | ABDULRAHMAN YUSUF | M | |
| 82 | NAF2019/192897 | SISERA EMMANUEL PHILEMON | M | |
| 83 | NAF2019/091707 | BASHAR IBRAHIM | M | |
| 84 | NAF2019/048615 | MUHAMMED UMAR | M | |
| 85 | NAF2019/048257 | DANTANI ABUBAKAR | M | |
| 86 | NAF2019/087214 | MUSTAPHA HARUNA | M | |
| 87 | NAF2019/143124 | ZAYYANU HAMZA | M | |
| 88 | NAF2019/025342 | IBRAHIM ADAMU | M | |
| 89 | NAF2019/010474 | USMAN HAMISU MUSTAPHA | M | |
| 90 | NAF2019/120184 | SADIYA SHEHU | F | |
| 91 | NAF2019/119478 | MUKTAR SHEHU | M | |
| 92 | NAF2019/187743 | NAZIFI DANHAJIYA NASIRU | M | |
| 93 | NAF2019/194497 | ABUBAKAR DANGALADIMA | M | |
| 94 | NAF2019/202948 | MUSTAPHA MUSA | M | |
| 95 | NAF2019/064818 | HAMISU SANI | M | |
| 96 | NAF2019/145965 | ABBAS SAIDU | M | |
| 97 | NAF2019/022675 | TABITHA PENI ZINGI | F | |
| 98 | NAF2019/151695 | PHILIP IRIMIYA | M | |
| 99 | NAF2019/015664 | SURAJO ABUBAKAR | M | |
| 100 | NAF2019/045021 | ABUBAKAR BELLO | M | |
| 101 | NAF2019/075922 | NAJAI M BALARABE | M | |
| 102 | NAF2019/037606 | TUKUR ISHAQA | M | |
| 103 | NAF2019/056596 | YASIR ALIYU | M | |
| 104 | NAF2019/121130 | ABDULQADIR MUHAMMED MAHBOOB | M | |
| 105 | NAF2019/147398 | RUFAI ANDARAI UMAR | M | |
| 106 | NAF2019/052693 | MUHAMMAD DAYYABU | M | |
| 107 | NAF2019/065227 | ABUBAKAR KADANHO IBRAHIM | M | |
| 108 | NAF2019/183689 | NURA TANKO | M | |
| 109 | NAF2019/127844 | SALIM ABDULLAHI | M | |
| | | | | |
| --- | --- | --- | --- | --- |
| (a) | (b) | (c) | (d) | (e) |
| 110 | NAF2019/084601 | MUSA SANI | M | |
| 111 | NAF2019/053874 | SABO MUSA | M | |
| 112 | NAF2019/101639 | QUEEN HAUWAU ADAMU | F | |
| 113 | NAF2019/188586 | NAZIRU ANWARU | M | |
| 114 | NAF2019/056572 | HASSAN HARUNA | M | |
| 115 | NAF2019/170649 | SOLOMON MAGAJI IBRAHIM | M | |
| 116 | NAF2019/140839 | ABDULMUMIN AMINU | M | |
| 117 | NAF2019/117547 | SAMUEL ABUZAKI | M | |
| 118 | NAF2019/069086 | MUHAMMAD RABIU IDRIS | M | |
| 119 | NAF2019/188097 | BLESSING AUDU | F | |
| 120 | NAF2019/126028 | MUSA MUHAMMAD | M | |
| 121 | NAF2019/019143 | HASSAN SINIYA A | M | |
| 122 | NAF2019/137110 | ABUBAKAR MUHAMMAD KOLA | M | |
| 123 | NAF2019/146916 | HAUWA USHE SAMUEL | F | |
| 124 | NAF2019/083754 | MUKHTAR ABDULRASHEED | M | |
| 125 | NAF2019/039087 | BASHAR UMAR | M | |
| 126 | NAF2019/019039 | ISMAIL AWWAL | M | |
| 127 | NAF2019/060480 | MUSTAPHA ISMA'ILA | M | |
| 128 | NAF2019/093560 | HASSAN BAGUDU | M | |
| 129 | NAF2019/173079 | DAVID PHILEMON | M | |
| 130 | NAF2019/181585 | JETHRO MYYRIYA ACHISON | M | |