Biafra: IPOB Issues Strong Warning To Buhari's Chief Of Staff, Abba Kyari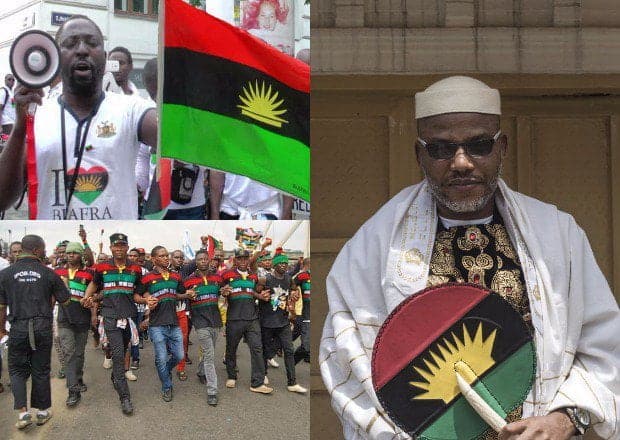 IPOB Accuses Kyari Of Using Police To Intimidate Its Members
The Indigenous People of Biafra, IPOB, has accused President Muhammadu Buhari's Chief of Staff, Abba Kyari of using the Police against its members.
IPOB in a statement on Wednesday, said Kyari was using unsubstantiated allegations against its members to divert attention from genuine national issues been raised by the group.
The group in a statement by its spokesperson, Emma Powerful, while reacting to the recent arrest of its members by Nigeria Police Force in Delta State said: "It is very sad and gravely disappointing that Nigerian Police Force in Delta State, that epitome of corruption and evil, have taken time-off from their usual extortion on check-points and daily killings of innocent civilians to once again turn their murderous attention to IPOB."
"Their well publicised lies about alleged police station invasion by IPOB in Asaba yesterday is so ludicrous that only a natural born liar like Lai Mohammed and possibly a rabid anti-Biafra deranged fool can believe such hogwash."
"Perhaps the Inspector General of Police and some Fulani elements within the Nigerian Police Force is seeking to relieve the pressure Jubril Al-Sudan the Buhari impostor is undergoing at the election tribunal in Abuja, where we understand he has been compelled to tender what we all know to be a non-existent WAEC result. Whoever concocted this silly allegation about IPOB invading a police station and sold it to the Nigerian press must be steeped in the same lying tradition as Lai Mohammed.
"The truth of the matter is that Delta State IPOB family members were attacked on Tuesday April 16, 2019 during a peaceful procession in Asaba the capital of Delta State. For those who may wish to know, Asaba is a Biafran town and the birthplace of Col. Achuzie, one of the great heroes of the Biafra-Nigeria war. Therefore, we IPOB have every right to exercise our constitutionally guaranteed right to peaceful assembly. At no time did we IPOB or anybody for that matter invade any police station in Asaba. All the lies the Delta State Police Command concocted is purely to justify the killing of innocent people during the procession.
"If those that issued this gravely misleading and injurious allegation against IPOB are hoping to deflect attention from their crimes then they are mistaken. From Delta State Police Commissioner to the DPO in charge of the station that opened fire on unarmed Biafrans- killing and injuring many in the process, all will pay dearly for the death of those they killed and injured. There will be retribution.
"No amount of sponsored lies against peaceful IPOB will exonerate these lying and corrupt policemen in Asaba. The time of reckoning will surely come.
"Those unelected shadowy figures in Aso Rock led by Abba Kyari, those that recruited Jubril Al-Sudani, should face their fate at the election tribunal. They should stop using the police to make outlandish and unsubstantiable allegations against the noble IPOB family in order to change the news headline with the hope of diverting public attention away from their crime of stealing the mandate of the people."