Only IPOB Can Restore Biafra, Nnamdi Kanu Boasts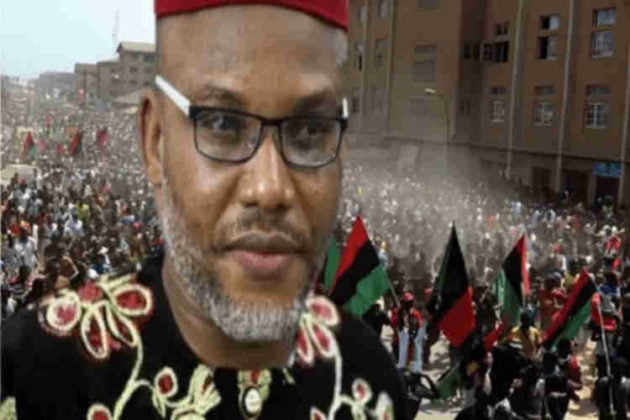 The leader of the proscribed Indigenous People of Biafra (IPOB), Nnamdi Kanu says no other person or group can restore Biafra with his group.
Naija News reports that Kanu made this statement on Sunday evening during a live broadcast on Radio Biafra monitored by this reporter.
This online news platform understands that there are over eighteen pro-Biafra groups in Nigeria.
The groups include Movement for the Actualisation of the Sovereign State of Biafra (MASSOB), Eastern Peoples' Congress (EPC), Igbo Youth Cultural and Restoration Initiative (IYCRI), Bilie Human Rights Initiative (BHRI), Movement of Biafrans in Nigeria (MOBIN), Salvation People of Biafra (SP), World Union of Biafran Scientists (WUBS) and Shadow Government of Biafra (SGB).
Others are the Biafran National Liberation Council (BNLC), Biafran Revolutionary Organisation (BRO), Biafran Liberation Crusade (BLC), Joint Revolutionary Council of Biafra (JRCB), Biafra Revolutionary Force (BRF), Customary Government of Biafra (CGB), Biafran Intellectual Clergy Forum (BICF), Biafra Movement for Sovereignty (BIAMOS), Biafran Central Council (BCC) and Biafran United Liberation Council (BULCO).
Speaking on the possibility of the Biafra Republic coming into existence, Kanu said only IPOB can restore Biafra because no "other group or human being have the mandate to restore Biafra because it is divine".
His words: "No any other people will ever be like us, it will only be us, only this very IPOB, the very best of the very best, the salt of the earth itself.
"Only us can restore Biafra. There is no other person, no other group or human being have the mandate to restore Biafra because it is divine, that is why anything we say come to pass. That is why the zoo is in trauma because I said with the truth they will be destroyed. Those that doubted us before are now turning round to see it because our mission is ordained by heaven itself," the IPOB leader said.
Kanu is leading a group seeking secession from Nigeria. The group has since been proscribed by the Nigerian government.
Download NAIJA NEWS app: