Nigerians React As Odegbami Shuts AFCON 2019 Door on Mikel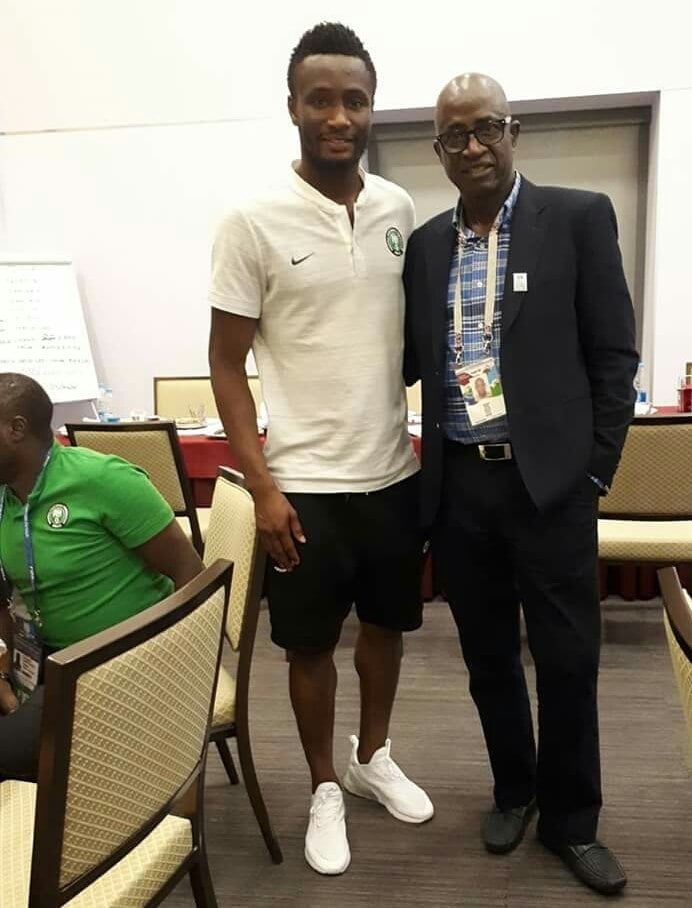 A storm of reactions by Nigerians has greeted advice by former Green Eagles Captain, Segun Odegbami, that the handlers of the senior national should perish the thought of recalling John Mikel Obi to the team if the Super Eagles must win AFCON 2019.
Naija News understands that Mikel has not played for the Eagles since Nigeria's last group stage game against Argentina at the 2018 World Cup in Russia.
The Middlesbrough midfielder played no part in the team's qualification for the continental football showpiece. Super Eagles missed the last two editions in 2015 and 2017.
Speaking on the possibility of Mikel returning to the team, Odegbami insisted that the midfielder has done his bits with Eagles and should be allowed to move on.
Odegbami fondly called the 'Mathematical' in his active football, said Mikel is no longer the player he was.
His words: "Recall Mikel? History is against such a decision. Mikel is not the player he once was. We have seen his best and it cannot be recreated or better. What did it fetch?"
Odegbami said the last time Nigeria recalled a captain to the senior national team turned out to be a disaster.
"The last time we brought back a captain it ended in a disaster that halted the country from going to its first World Cup in 1981.
"Why are we not taking lessons from history? Why do we keep doing the same things based on sentiments and expecting a different result?" he asked.
Moments after the news broke, Nigerians took to the micro-blogging site, Twitter to react to the advice.
Naija News captured some of the reactions below…
God bless you bro ?? I have talked multiple of times on these issues ..but this is Nigeria ..where we do things abnormally and expect good results ..these are stuffs hampering our progress ..This team don't need Mikel Obi one bit

— ?KING OF LAGOS(MFR) (@Derek74399105) April 12, 2019
Egbon bode there is a huge difference here Christian Chukwu retired from the national team after afcon 80, Mikel has not retired from the national team moreover the guy is just 31-years old . The guy is playing well for his team

— Oba Adeola Amokomowo (@Amoky) April 12, 2019
Dasall…
See ehn, I rate Mikel very highly, but we must be careful not to grant any player 'god' mentality. I learnt a long time ago that "nature abhors a vacuum", life quickly fills up vacated spaces. We must keep moving with the times… https://t.co/L07ojbb6vo

— iBD10 (@booday10) April 12, 2019
Here we go again, Mikel this, Mikel that, that was how we forced Jay Jay into early retirement, If we appreciate our own is it a crime?

— Samuel O. Oruruo (@Quest4sam) April 12, 2019
There is nothing Mikel Obi can do in this present eagles that Nwakali can't do on the pitch ..How old was Micheal Owen when he rep England at the WC .. how old was Mbappe in the last WC …but this is Nigeria ??… Absurdities is our second name ..

— ?KING OF LAGOS(MFR) (@Derek74399105) April 12, 2019
The way we do things in Naija, Mikel will go to Afcon as a fringe player, like Yobo in 2013 and Okocha in 2006.They won't be active….lol

— Yusuf Akinlotan (@YusufAkinlotan) April 12, 2019
I don't see any eagles midfielder in that team that can put Mikel on the bench on the second pivot role even if they are selected on technicality and metiy

— Sir G (@lordslim91) April 12, 2019
Wonderful example Yobo and JJ. They were past it at .Selecting Mikel will just be motivational and not on form basis https://t.co/BOrN4yliZ3

— anthony ade (@walesvilla) April 12, 2019
Read More News. Download Naija News App. Send us enquiries and press releases.