Nigerians React To Christian Chukwu's '$50,000' Medical Treatment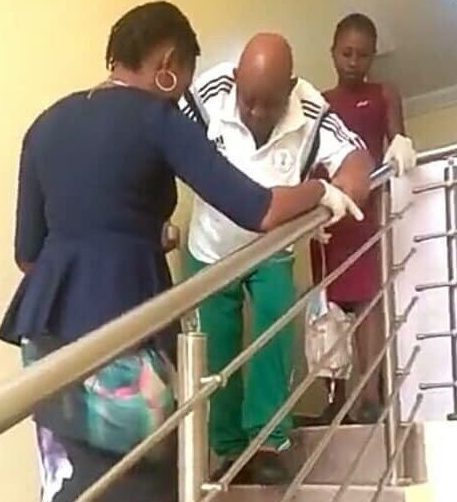 A storm of reactions by Nigerians has greeted the news that former Nigeria captain and coach Christian Chukwu who is seriously down with an undisclosed ailment needs the sum of $50,000 for medical treatment.
Naija News reports that Chukwu needs the sum of $50,000 to be flown to the United States of America to undergo surgery and for other medical treatment.
This online news platform understands that the present predicament of the former Super Eagles coach was brought to light following an appeal made by Benson Ejindu, the patron of former Enugu Rangers players association, both in Nigeria and all over the world.
Ejindu said: "Christian "Chairman" Chukwu, who captained the famous Enugu Rangers International FC and the Nigeria national team in the 1970s and early 1980s, needs a different type of support – your financial support. Your support, no matter how small, will offset the cost of surgeries and treatments to restore his debilitating health.
"We are hoping to raise about $50,000 to cover Christian Chukwu's round trip flight from Nigeria and all the medical expenses. Leftover funds will help set up a health and welfare account for all Ex-Rangers Players," he added.
Reacting to Chukwu's illness, Nigeria Football Federation (NFF), Amaju Pinnick, revealed that he has mandated the Chairman of Enugu State Football Association and Member of the NFF Executive Committee, Hon. Chidi Ofo Okenwa to pay a visit to Chukwu and get the details of his challenges and what needs to be done to return him to good health.
"I am not in Nigeria presently but I have asked the NFF Acting President, Barr. Seyi Akinwunmi to take full charge and ensure that this matter is treated promptly.
"It was for this kind of development that I spoke about the welfare foundation for our legends at the 2nd AITEO-NFF Awards in Lagos on 1st April 2019.
"The NFF would always be there to lend support to our legends in their hour of need," Pinnick said.
Nigerians also took to the micro-blogging site, Twitter, to react to the development with some questioning what Chukwu did with the monies he made during his playing and coaching career.
Naija News captured some of the reactions below…
Christian Chukwu, former captain and coach of the Super Eagles. Sick & begging for help.
If Nigeria treats him this way, imagine how it will treat me. They will be like "Dr. Damages, enfant terrible, renegade with an over exaggerated sense of importance… you are still alive?" pic.twitter.com/bTgh6UGw87

— Dr. Njakiri Damages (@DrDamages) April 8, 2019
Am not contributing money for anyone that fail to save and have adequate plans for their old age. Christian Chukwu was a top athlete and a coach. He was paid in different currencys. What happened to all his money? They government should fund him shikena.

— Mz Bordeaux (@honeysofine) April 8, 2019
On Christian Chukwu.

Relieving that NFF has intervened. But this is not enough. Those who make the country proud shouldn't always have to seek support, especially for health bills. It's not enough to react when this happens, the system must provide safety nets for honest labour.

— Ayò Bánkólé (@AyoBankole) April 8, 2019
I am glad the NFF has stepped in for coach Christian Chukwu. Those who have given their all for our country, even winning glories on its behalf, should never be abandoned in their trying times, if we can't stop them from seeing such trying times.

— JJ. Omojuwa (@Omojuwa) April 8, 2019
I am very happy that Christian Chukwu is getting the help he needs. He played for Nigeria. It is also important to acknowledge that Nigeria has richly rewarded him for that. Government supporting him now is out of benevolence, not entitlement.

— Babanla (@biolakazeem) April 8, 2019
I have witness someone spend his life savings on his health, sold most of his properties, borrowed from friends.

Saying Christian Chukwu didn't save to take care of himself is very wrong.

I pray you don't find your self in such situation.

— Uncle Mark™ (@iamUncleMark) April 8, 2019
How did @thenff allow Former Super Eagles captain&coach, Christian Chukwu health to get to such state without assistance? I hope @MBuhari comes to his rescue to raise the $50k assistance to take care of his medical bills.

This is so sad. Las las,we're all victims in this country pic.twitter.com/7aT2lOQ4G4

— Benny Umoren (@BennyUmoren) April 8, 2019
NFF to support Christian Chukwu's medical treatment abroad. This is one of the the best, if not the best things that the Pinnick board has done. It would stir up patriotism in the younger players. Well done, @thenff. God bless you guys.

— Bimbo Adéólá Igi T'Oluwa Gbìn (@bimbolovesmusic) April 8, 2019
Funny how the Government have no Health & other plans for our retired athletes & Veterans that has done us proud as a country. Should the likes of Christian Chukwu, Baba Suwe, Agbako & more be crying and dying in pains before something is done? Public donation is an insult biko.

— ÌYÁLÓDE AMERICA ❁ ???? (@figure8kemi) April 8, 2019
Instead of helping out if u have, some of you are busy asking what Christian Chukwu did with his savings while in active sport? Like seriously? I just pray u don't get faced with situation were ur so called savings won't be enough to bail you out!?

— Osirmah (@osirmah) April 8, 2019
I don't know why the FG can't fix our Hospitals so that people likes Christian Chukwu and those that made the country proud should be taking care of FREE. Instead of the masses donating. Ooh i forgot Even the president runs to UK with tax payers money. Shame on this country.

— Offpoint™ ? (@IamZagalee) April 8, 2019
I hope these young Nigerian footballers popping bottles in the club and slapping strippers ass with dollars now learn from this Christian Chukwu situation. Save and invest your money dammit cos no one knows tomorrow.

— Mz Bordeaux (@honeysofine) April 8, 2019
Anybody who serve the nation in whatever capacity, be it as an athlete, public servant, civil servant, still serving or retired, should not require or resort to public donation for his medicare. Coach Christian Chukwu does not need donation, the FG should wade into this matter. pic.twitter.com/Ma41XX0xgG

— Mazi Ebuka ?? (@realmichaeldoo) April 8, 2019