Nigerians React As Dangote Says He Withdrew $10m Cash Just To Look At It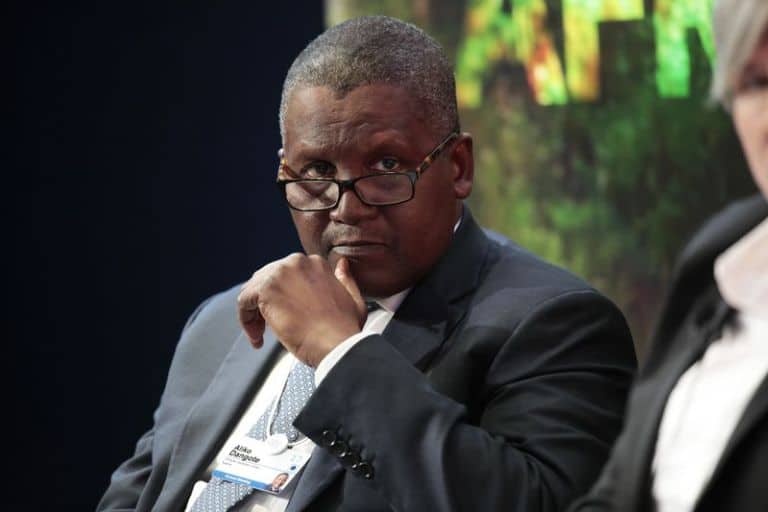 A storm of reactions by Nigerians has greeted a statement by Africa's richest man, Aliko Dangote, that he once withdrew $10 million just to look at it and prove to himself that he was indeed rich.
Naija News had reported earlier that Dangote made this comment at the Mo Ibrahim governance in Abidjan, Côte d'Ivoire, on Saturday, while he was chatting with the convener, Ibrahim.
In the video, which was shared on the YouTube page of the Mo Ibrahim Foundation, the business tycoon said, "The way it is that when you first start business, your target is to make your first million. Fine, I did that.
"After a year or so, I realised that I had much more, and I said ok, fine, all these numbers are just written numbers.
"One day I went to a bank, and at that time, there were no restrictions, and I wrote a cheque and cashed $10m from the bank and put it in the boot of my vehicle, and I went home and I opened it and I looked at $10m and I said 'now I believe I have money'."
Dangote added that he returned the money to the bank the next day.
Moments after the news broke, Nigerians took to the micro-blogging site, Twitter to reaction Dangote's statement.
Naija News captured some of the reactions below…
I'm inspired. 'Dangote still dey find money.'

Dangote; "Now I know I have money." pic.twitter.com/Oca2gVYMWy

— Adepoju Tobi Samuel (@OgaNlaMedia) April 6, 2019
so dangote had to withdraw $10m just to convince himself that he's rich. meanwhile some of us won't let anyone rest if we have 100k..we will start hearing 'fuck haters', 'self made'.#dangote pic.twitter.com/eplEt4cYtH

— Omisore Tolu (@ToluOmisore) April 6, 2019
Aliko Dangote: I Withdrew $10m Just To Look At It.

And I used to think that Floyd Mayweather was crazy. I didn't know it will eventually happen to all of us – when we get there. Please type Amen if you want to get there too. pic.twitter.com/VMfAd80GTz

— Dr. Njakiri Damages (@DrDamages) April 6, 2019
Apart from Uncle Dangote, Uncle Otedola, Uncle Adenuga, and Uncle Adeleke, which of my other uncle do you know again? pic.twitter.com/Fsxle1y9PO

— salt ? (@salt_xo_) April 6, 2019
Me that will only sub 1k and my account will start doing leg work…. Uncle dangote withdraw $10M just to make himself believe he was rich.
Legend?

— regular guy? (@ukboy_Mike) April 7, 2019
I just watched the video where Dangote said he withdrew $10m dollars just to keep it at home and look at it to convince himself he is rich. Then drove to the bank the next day to deposit it back. Oh Lord! Pls do it for us ??

— Snuggy (@Abberh_suicide) April 6, 2019
Dangote withdrew $10m from his bank account, he took the money home just to look at it and confirmed to himself that he has money and he returned the money back to the bank the next day….

Me: I can't even… https://t.co/L8TsXM8mof

— Collins O. Atoberuru (@collinsatos) April 6, 2019
Dangote: "I went to the bank, withdrew $10M and took it home just to look at it…"

Sounds like something I would totally do too if I were in his shoes. ??? https://t.co/RPMTrBf7L4

— NigerianMag (@NigerianMagUSA) April 7, 2019
so dangote had to withdraw $10m just to convince himself that he's rich. meanwhile some of us won't let anyone rest if we have 100k..we will start hearing 'fuck haters', 'self made'.#dangote pic.twitter.com/eplEt4cYtH

— Omisore Tolu (@ToluOmisore) April 6, 2019
So Dangote withdrew $10m just to confirm that he has money. Aaahh pic.twitter.com/IVlOnTYgKU

— Samuel Omope (@Omoyamayaski) April 6, 2019
Dangote withdrew 10M$ just to look at it oo
Ordinary 10k I withdrew and it's affecting my look ?? pic.twitter.com/nLqGjrze8k

— Nitemi??? (@Olanitemi3) April 6, 2019
Download NAIJA NEWS app: