Nigerians Blast Desmond Elliott For Commissioning Public Toilet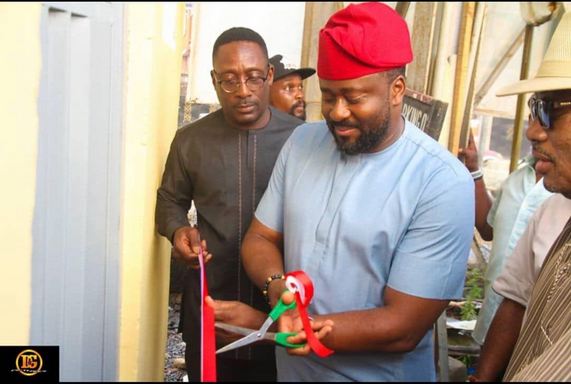 Nigerians have berated Nollywood star cum Politician, Desmond Olusola Elliott, who represents the people of Surulere constituency at the Lagos State House of Assembly, for commissioning a public toilet for his constituency.
Naija News had reported earlier that the public Biofil toilet which will convert waste to manure was commissioned on Wednesday, February 20. The actor shared the news on Instagram on Thursday, February 21.
Elliott, who is seeking a second term in office on the platform of the All Progressives Congress (APC), Nigeria's ruling party, said the project was sponsored by the Australian government.
The actor said his sincere thanks and gratitude goes to Hon Com Ladi Lawanson for making the Biofil toilet a reality.
Elliott also thanked the entire Gbaja community especially the CDA chairman Alh Seriki for the land.
The Nollywood producer wrote: "Commissioning of public BIOFIL TOILET @lovegarden field Surulere Lagos which was
"Facilitated by Hon Elliott
"Donated by Hon. Ladi Lawanson Commissioner For Transportation Lagos State
"Commissioned By: Hon Desmond Olusola Elliott Member Lagos State House Of Assembly Surulere Constituency 1 Today Wed 20th Feb 2019.
"This isn't just a building, not is it just a toilet, but one that converts waste to manure so nothing is wasted as we keep the environment clean.
"Sincere thanks and gratitude goes to Hon Com Ladi Lawanson for making this Biofil toilet a reality. The Australian government for sponsoring the project. Bar Iraboh for making it happen. Entire Gbaja community especially the CDA chairman Alh Seriki for the land and being an example to us all the entire Surulere".
Moments after the news broke, Nigerians took to the micro-blogging site, Twitter, to blast the lawmaker.
Naija News captured some of the reactions below…
Not too young to run, not too young to run

Boom!

The very young Desmond Elliot commissions this toilet as constituency project.

Lesson: Don't give positions of authority to people based on their age. Age, whether old or young, isn't one of the characteristics of a good leader. pic.twitter.com/hVrREyL5KD

— The Mouth That Eats Salt & Pepper ? (@Manlike_ED) February 21, 2019
If you want to be made useless in life join @APCNigeria

Desmond Elliot commissions ₦200k public toilet project he built for his constituency pic.twitter.com/GS6xKZ0jgp

— Maetrix (@MaetrixOgbu) February 21, 2019
People like Desmond Elliot is the big part of the reason we doubt these new generational not too young to run politicians. They are mostly younger versions of the old ones. Man is smiling and commissioning toilet.
Tufia

— No one (@ilynem) February 21, 2019
Very toxic, horrid and vile people on Twitter. Quick to pull others down.

Desmond Elliot didn't build the toilet..It was donated to his constituency in conjunction with the Australian high commision.

Why the eagerness to pull the man down? pic.twitter.com/4K1BjRq451

— Dr. Guendouzi (@fimiletoks) February 21, 2019
Hope Desmond Elliot pooed in that toilet as part of the commissioning?

— No one (@ilynem) February 21, 2019
I knew Desmond Elliot was going to trend, but how could it be only toilet he commissioned in 4 years, I don't want to believe it

— Phazehop (@phazehop) February 21, 2019
Desmond Elliot commissions toilet.
So that Apc people will see where to shit when they start purging ???

Not too young to run.
???
To Run and Goan shiit

— Black-Lez-Nippl3z. (@walkerSavage8) February 21, 2019
https://twitter.com/MarkOtabor/status/1098802650928304128
One would have thought Desmond Elliot would do better but here we are.

— SB (@QueenSallyb) February 21, 2019
https://twitter.com/Ifeabunike/status/1098885681827467264
https://twitter.com/Ikechukk/status/1098837985418727424
https://twitter.com/Whisper2raw/status/1098820240190906368
Whenever we say youths being in government will bring better change, I'm always skeptical. Just look at Yahaya Bello – a nuisance. Then look at Desmond Elliot – you would have thought he'll have better sense. Commissioning a toilet? The world has left us behind.

— Oluwadunsin (@Dd_Poet) February 22, 2019
We wanted not too young to run bill

We wanted more youths in governance

APC gave us Yahaya Bello and Desmond Elliot the toilet commissioner.

We have the power to throw APC and Desmond Elliot into that toilet with our PVC's

Vote wisely pic.twitter.com/Y7pINBZndM

— offor cyril (@offorcyril) February 21, 2019
Download Naija News App. Advertise with us. Send us enquiries and press releases.