Senator Abe Reveals How Amaechi Reacted When Buhari Picked Osinbajo As Running Mate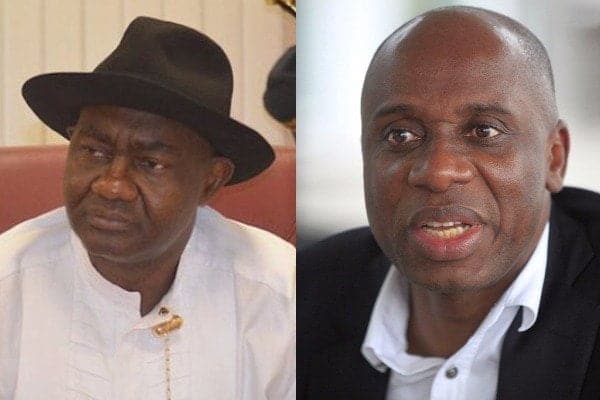 Senator Magnus Abe (APC-Rivers South East) has revealed how the Minister of Transportation, Rotimi Amaechi, reacted when President Muhammadu Buhari picked Yemi Osinbajo as his running mate in 2015.
The lawmaker was reacting to a report where Amaechi had claimed that Abe fell ill when he (Amaechi) picked Dakuku Peterside as the governorship candidate of the state.
But reacting in a statement obtained by Naija News on Tuesday, Abe said it was Amaechi who went into shock and a doctor had to be brought in to treat and placed drip on him all the night to stabilize him when Osinbajo was chosen ahead of him as the Vice President.
"My attention has been drawn to an interview granted by the Minister of Transportation, Rt Hon Rotimi Chibuike Amaechi. In the interview widely publicized by the DAILY POST and several online media houses, the minister was said to have among other issues raised therein described me as a "betrayer and an ingrate," Abe stated.
"Nigerians are aware that Mr. Amaechi has been calling me names for the past two years and in keeping with my personal values and upbringing, I have refrained from joining issues with him in the public domain. However, it has become imperative that I set the records straight on the issues raised by the minister so that Nigerians will know the truth.
"Mr. Amaechi said I fell ill when he picked Dakuku over me in 2015. I should answer honestly that I did not fall ill. Indeed, Mr. Amaechi himself will recollect that Rivers youths almost set the Government house on fire and that I came out to address them and went on air to appeal for calm. He can also remember that I arranged a meeting of Ogoni leaders who met with him in the aftermath of that decision. No doctor attended to me.
"But he will also remember that when Prof. Osinbajo was announced as Vice Presidential candidate of the APC, he went into shock and a doctor had to be brought in to treat him.
"He was placed on a drip all night to stabilize him. That was why he assumed that I would have also required medication. We all react differently to shock."